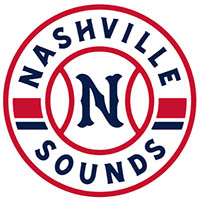 Nashville, TN – The Nashville Sounds fell to Round Rock Express 13-12 in a 13 inning game Tuesday night at First Tennessee Park. The game took 4 hours and 36 minutes to complete and finished with a pair of position players on the mound for their respective team.
Both teams scored in the 11th, 12th and 13th innings, but Round Rock scored three in the 13th and the Sounds answered with only two to ultimately come up short.
The back-and-forth scoring by both clubs started in the first and lasted until the final frame. Round Rock out-hit Nashville, 22-16. Despite being out-hit by six, the Sounds had a whopping 28 at-bats with runners in scoring position.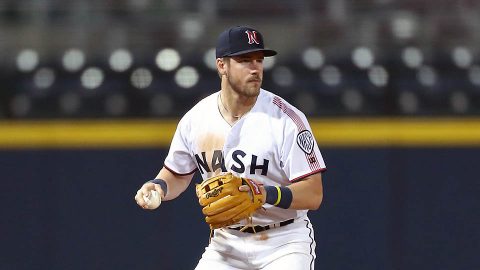 Trailing 7-5 in the bottom of the eighth, Delino DeShields' second hit of the night was a two-out, two-run single to score Carlos Tocci and Adam Moore to even the game at 7-7. Neither team scored in the ninth or tenth despite multiple chances for each club.
It looked like Nashville had the game won in the 10th and in the 12th. With one out and Tocci at third in the 10th, Sounds newcomer Tyler Pill lined a fly ball to right field. Round Rock's Kyle Tucker caught it but Tocci failed to tag up on what could have been the winning run.
Round Rock held a 9-7 lead in the top of the 11th only to give up a game-tying, two-out, two-run homer to Andy Ibanez in the bottom half of the inning to make it a 9-9 game.
The odd ball continued in the 12th as Round Rock once again took a 10-9 lead. Nashville's Adam Moore tied the game with a fielder's choice and was standing at first base when Pill's deep fly ball to right field bounced over the fence for a ground-rule double, thus preventing Moore to score with what would have been the winning run.
Round Rock scored three in the top of the 13th off Nashville infielder Tyler Depreta-Johnson and the Sounds came up short after plating two runs off Express catcher Jamie Ritchie.
Post-Game Notes
With tonight's 13-12 loss, the Sounds are now 21-32 on the season.
Delino DeShields, Andy Ibanez, Patrick Wisdom, Carlos Tocci and Tyler Pill had multi-hit games.
The Sounds are now 1-3 in extra-inning games. All four games have come against Round Rock.
Tonight's game was the last between Nashville and Round Rock in 2019. Round Rock won the season series, 9-7. The two teams played 16 times in the last 51 days.
Next Up For The Nashville Sounds
The Sounds welcome the New Orleans Baby Cakes to town for a four-game series set to begin Thursday night. Right-hander Pedro Payano starts for Nashville against right-hander Dustin Beggs for New Orleans. First pitch is scheduled for 6:35pm.
The 2019 season is the 42nd in Nashville Sounds franchise history and first as the Triple-A affiliate of the Texas Rangers. Single-game tickets are available now by calling 615.690.4487 or by visiting www.nashvillesounds.com