Clarksville, TN – Austin Peay State University (APSU) women's basketball signs Tahanee (tuh-HAW-knee) Bennell, a combo guard who completed her career at Northern Oklahoma-Tonkawa for the upcoming 2019-20 season.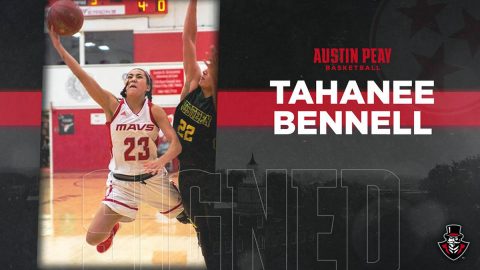 Bennell, of Turners Beach, Tasmania in Australia, was a First-Team Region 2 selection as a sophomore at Northern Oklahoma-Tonkawa.
She also excelled in the classroom and was named a NJCAA First-Team All-Academic Team honoree after her freshman season.
"Tahanee is a playmaker and a scorer on the basketball court," said APSU women's basketball head coach David Midlick. "She is a fantastic teammate and leader. Coach (Greg) Krause at Northern Oklahoma-Tonkawa has done a great job coaching her. I look forward to having her and her parents Peter and Maria as a part of our program.
In her sophomore season with the Mavericks, Bennell averaged 14.4 points, 6.3 rebounds and 5.1 assists while playing over 30 minutes per game. She ranked 29th among all NJCAA Division I players in total assists (137) and 27th in free-throw percentage (81.5).
Bennell closed her career with back-to-back 20-point outings, scoring 29 against Western Oklahoma State and 23 at Redlands. She topped 30 points twice during the season, including a career-high 32 points as part of a triple-double against Seminole State (Oklahoma) that saw her grab 10 rebounds and hand out 10 assists.
Bennell's freshman-year numbers were equally impressive, as she averaged 12.2 points, 4.8 rebounds and 5.6 assists per game. She ranked 68th nationally in three-point field goal percentage (38.6) and 22nd in total assists (150) as a freshman. Bennell scored 20 points or more five times in her first season with the Mavericks, including a then-career best 27 points twice.
2019-20 APSU Women's Basketball Signing Class
Alayjah Sherer, 5-11, guard, Tupelo, Mississippi (Northwest Florida CC)
Shay-Lee Kirby, 5-8, guard, Parkersburg, West Virginia (Parkersburg HS)
Ella Beth Sawyer, 5-9, guard, Adelaide, South Australia (Cabra Dominican College)
Tahanee Bennell, 5-8, guard, Tuners Beach, Tasmania (Northern Oklahoma-Tonkawa CC)