Clarksville, TN – Clarksville Mayor Joe Pitts, Ward 2 City Councilman Vondell Richmond and an assortment of local leaders want to jumpstart the community's focus on entrepreneurship and small business development.
Pitts hosted a Mayor's Business Luncheon last week at Freedom Point, and Richmond led the group of about 50 participants in a discussion about building a more vibrant entrepreneurial ecosystem in Clarksville.
For Pitts, the goal is to nurture the community's entrepreneurial spirit and to make sure government is not creating regulatory barriers to a thriving small business environment.
In his remarks, Mayor Pitts spoke of the "Three Cs" of small business support: Commitment, Capacity and Capital.
"We have to commit to small business success, help businesses build the capacity in terms of workforce and know-how, and then facilitate the conversation to help businesses find the capital to grow and thrive," Pitts said.
Richmond said his inspiration for pursuing the topic comes from the frequent questions and comments he gets from constituents who express concerns about the business climate in Ward 2, especially in the commercial district along Fort Campbell Boulevard.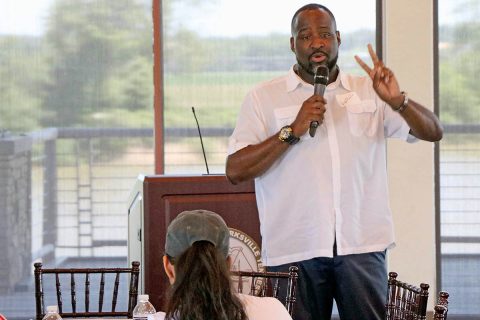 "While other parts of Clarksville are booming, we have too many vacant storefronts and overgrown parking lots in Ward 2," Richmond said. "People are asking me, 'What are we going to do about it.' "
Richmond sums up his approach as "Breaking Barriers, Building Bridges."
"We have to empower people and create a better environment for business start-ups," Richmond said. "Part of the equation is to look for successful models and programs and put them in place here."
Toward that goal, Richmond introduced speakers from Co.Starters and Young Entrepreneurial Students, or Y.ES.
Co.Starters is a Chattanooga-based organization that provides programs and tools to support entrepreneurial growth in communities. Y.E.S. is a Florida-based non-profit that focuses on developing entrepreneurial communities for students, ages 12-23, who live in low-income areas, so they can start their own ventures.
One of Y.E.S's taglines is "You don't have to be old to start something new."
Richmond said he will meet August 5th with Mayor Pitts to plan the next steps and build momentum for promoting entrepreneurship.
"The goal is to continue building on the luncheon," Richmond said. "We'll be working with both City and county to grow new entrepreneurs and to help and sustain start-ups who are already here."
Citizens interested in learning more about efforts to build Clarksville's entrepreneurial ecosystem are invited to complete a survey. It can be accessed online at this link http://bit.ly/cmcecosystem, or by smartphone by texting the keyword business to 43506.