Clarksville, TN – The fall tennis season gets underway Friday morning with the start of the APSU Fall Invitational, as Austin Peay State University women's tennis team begins its title defense season.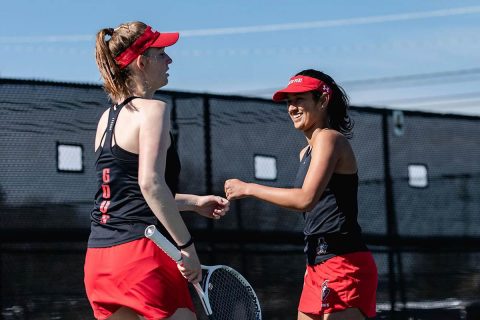 For the third straight season the Govs will open with the APSU Fall Invitational, an event that they dominated a year ago.
Last year in the Flight 1 Singles, Govs made up three of the four semifinal spots, with Lidia Yanes Garcia defeating Fabienne Schmidt in the all-Austin Peay State University final.
It was much of the same in the Flight 1 Doubles, as the two teams of Govs advanced to the finals, with the match never being played due to time constraints.
After losing half of last season's roster, junior Fabienne Schmidt and sophomore Danielle Morris are the top two returners from the Ohio Valley Conference champion team. Schmidt and Morris represent the Governors in the Flight 1 Singles this weekend. The duo will also be paired up in the Flight 1 Doubles. Last season the doubles team of Schmidt/Morris posted a 9-2 record, which was good for the second best winning percentage (81.8%) on the Gov's squad.
In the Flight 2 Singles, sophomore-transfer Martina Paladini-Jennings and freshman Sarah Heckel will represent the Govs. Paladini-Jennings come to the Governors after a successful season at East Carolina, which saw her go 17-8 in singles play. A true freshman, Heckel, is the second German-born player on the Gov's roster, and was ranked No. 117 in the German women's rankings before coming to Clarksville to begin her collegiate career.
The Govs lone senior Ana Albertson and sophomore-transfer Aleks Topalovic round out the Gov's lineup in the Flight 3 Singles. Albertson brings the most experience of any Governor in the event, having won a match in this event each of the past three seasons; she also posted a second place finish in the 2016 Flight 2 Singles. Topalovic brings Division I experience to the Govs, having spent her freshman year at Memphis. Before her time at Memphis she won the U18 in Great Britain and was a top-25 player in England.
Paladini-Jennings and Toplaovic will be the Govs second pairing in the Flight 1 Doubles. The pair of sophomores both hail from London, England, and will look to use that to find some chemistry in their first event as Governors. The Govs final doubles pairing is Albertson and Heckel; Albertson did not compete in doubles last season, but the lone senior will bring experience to the duo, as she is paired up with the Gov's lone freshman.
APSU Govs First Round Matchups
Flight 1 Singles
Fabienne Schmidt (APSU) vs. Polina Goloputova (UTC)
Danielle Morris (APSU) vs. Somer Henry (BEL)
Flight 2 Singles
Martina Paladini-Jennings (APSU) vs. Sneha Sinha (SEMO)
Sarah Heckel (APSU) vs. Sara Loncarevic (MUR)
Flight 3 Singles
Aleks Topalovic (APSU) vs. Nikki Chrstiansen (BEL)
Ana Albertson (APSU) vs. Aziza Aubin (UTM)
Flight 1 Doubles
Paladini-Jennings/Topalovic (APSU) vs. Goloputova/Billman (UTC)
Schmidt/Morris (APSU) vs. Sakurai/Aubin (UTM)
Flight 2 Doubles
Albertson/Heckel (APSU) – Bye