Owensboro, KY – The Austin Peay State University (APSU) men's cross country team posted strong runs in Kentucky as they battled at the Fast Cats Classic, Saturday morning.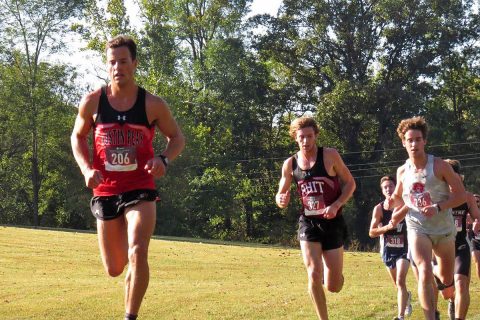 Thomas Porter was the first APSU Governor to cross the finish line in the eight-kilometer race after he timed 26:50 and finished 24th. Hezron Kiptoo followed Porter and finished thirty seconds behind Porter with a time of 27:20 (38th).
Nash Young finished with the time of 27:57 and placed 70th. About twelve seconds later, Joseph Redman clocked a personal record with the time of 28:09 (77th). Elliot Reed came running in after Redman, and Reed finish with a personal record for himself with the time of 28:28 (84th).
Daniel Davis and Ryan Martin crossed the finish line in sequential order. Davis crossed first the with the time of 28:59 (97th) with Martin right behind with a time of 29:01 (98th). William Norris was the final Governors runner to round out points for the Governors after Norris finished with the time of 29:29 (113th).
"The men had a great day today," said head coach Valerie Brown. "It was good seeing Joseph and Elliot get PR's and for Elliot to cut his time by a 1:30. Overall, we are taking good steps in the right direction as we look toward the OVC Championships."
Austin Peay State University will travel across the border to run in the Murray State Open, Friday.