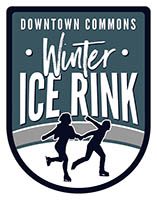 Montgomery County, TN – Downtown Commons Winter Ice Rink opening night was delayed due to rain. On Wednesday, November 27th, the rink will open at 10:00am. $5.00 Specials will be running on Thanksgiving Day and Black Friday and sessions start at 4:00pm both days.
The ice rink will be open through January 20th, 2020. Regular operating hours will be Thursdays and Fridays from 4:00pm to 9:30pm, Saturdays from 10:00am to 9:30pm, and Sundays from 2:00pm to 9:30pm. Hours will vary on holidays, during school breaks, and special events. Ice Skates are provided.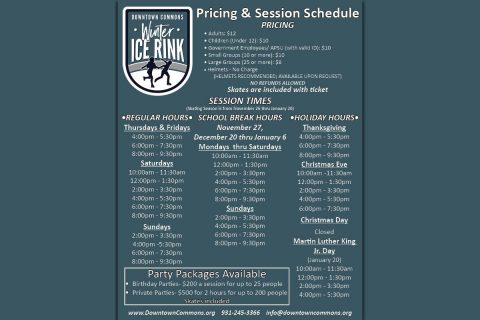 Tickets are $12.00 for adults and $10.00 for children under 12, government employees, military, and Austin Peay State University (APSU) students.
Every Thursday tickets will only be $5.00! Private and birthday party rentals are also available.
For more information about advertising or special event booking/planning, contact Paula at . Watch the Downtown Commons Winter Ice Rink Facebook page for event and weather-related details. Be sure to visit the Downtown Commons' Facebook and website pages to stay up-to-date on all events.