Brentwood, TN – The Austin Peay State University's (APSU) dynamic men's basketball duo of junior Terry Taylor and freshman Jordyn Adams have been named Ohio Valley Conference Player and Freshman of the Week, respectively.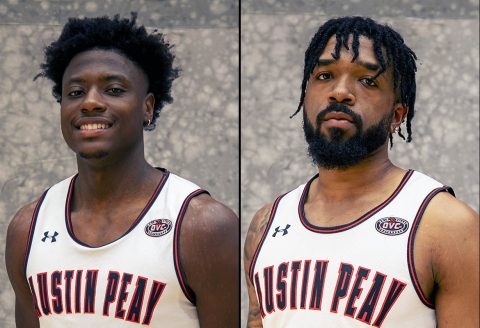 Already, it's the second time this season the duo have earned league honors in the same week, with the first coming the week of November 25th.
For Adams, it's his third Freshman of the Week honor while Taylor has put a stranglehold on the league's top weekly award, earning his season's fourth, all in the last five weeks. He's the first player in league history to earn at least a share of the league's Player of the Week honor in four of the first seven weeks of a season.
Taylor posted two 30-point efforts in three games last week, lifting an APSU team decimated by a rash of injuries to a 2-1 mark. He opened the week by dropping 39 points on McKendree in Austin Peay State University's final home nonconference appearance, including 29 in the first half alone.
He followed that up with 14 points and 11 rebounds against then-unbeaten Duquesne, one of the nation's premiere front lines, and closed the week with a 30-point effort against Alabama State when the Govs were down to just eight dressed players.
For the week, Taylor averaged 27.7 points on 64.0 percent (32-of-50) from the floor and 77.8 percent (14-of-18) at the free-throw line. He also pulled down 9.0 rebounds and added a steal per game. He's now the fourth-leading scorer in Division I at 23.5 points per game.
A Silsbee, Texas native, Adams broke big at the St. Pete Shootout with back-to-back 20-point efforts for the first time in his Austin Peay State University career, concluding his stay in the Sunshine State with his first 30-point night as a Gov against Alabama State. He also tied his career high with five assists against the Hornets and went 10-for-10 at the free-throw line, the first Gov to post a perfect night from the charity stripe with at least 10 attempts since 2015 (Josh Robinson vs. Wofford, December 22nd, 2015).
Adams averaged 20.0 points on 48.8 percent (20-of-41) from the field for the week, hitting 16-of-16 attempts from the free-throw line and adding 4.3 rebounds and 1.0 steal each contest.
Pick any high-scoring duo from recent APSU memory—Drake Reed and Wesley Channels, Chris Horton and Josh Robinson, Nick Stapleton and Trenton Hassell. In recorded digital archives dating back to 1999-00, no Austin Peay State University teammates had scored 30 points in the same game until Taylor and Adams each reached the mark against Alabama State.
OVC foes, be prepared: Adams, Taylor and the Govs have one final nonconference tune-up at Georgia, December 30th, before beginning the league slate January 2nd.