Fort Campbell, KY – Soldiers and spouses from the 5th Special Forces Group (Airborne) gathered for a potluck to celebrate "Galentine's Day" at the Deeks Language Lab, Fort Campbell, KY, February 11th, 2020.
"Galentine's is basically an all-female Valentine's" said Quan Garcia, event coordinator for the Family Readiness Group. She added the point of Galentine's is "to love each other, get together and make friends."
The potluck was an array of homemade recipes.
The table was a spread of Philippine dishes like pancit and lumpia, Thai red curry, and American favorites like hotdog-stuffed cornbread muffins.
The dessert table was loaded with treats to include cookies, strawberries, marshmallow-coated brownies and banana pudding.
"It's just a good time for all of us to get together, build some camaraderie and just have fun," Garcia said.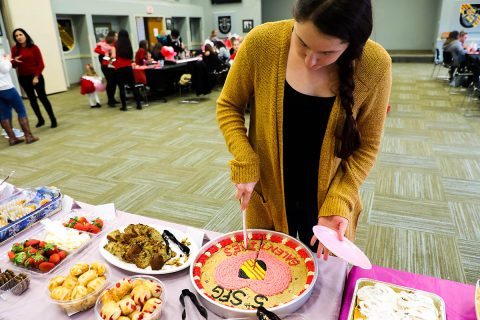 She stressed that all members of 5th Special Forces Group (Airborne) and their families are welcome at any and all Family Readiness Group events. "We would love to have you as a volunteer or just there to have fun. We would like to see and meet you."