Clarksville, TN – The Roxy Regional Theatre is participating in The Big Payback, a community-wide online giving day hosted by The Community Foundation of Middle Tennessee. It starts today, Wednesday, May 6th at 6:00pm.
With the recent disasters in our region — the tornadoes, COVID-19 Coronavirus and the unfolding economic downturn — this year it's more important than ever to help lift up nonprofit, school and faith-based organizations.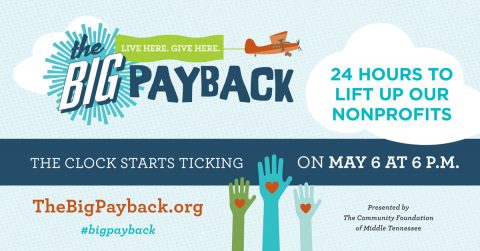 So many of us have had to slow down or push pause on our work during a time when Middle Tennessee needs us most.
In the past six years, the region's generosity was astonishing as our community rallied together to raise a total nearly $17 million for more than 1,000 area organizations.
How does The Big Payback work?
The clock starts ticking at 6:00pm on Wednesday, May 6th, and donors have 24 hours to make gifts online to The Big Payback's participating organizations located in or providing services to the 40 counties of Middle Tennessee.
To support your Roxy Regional Theatre and/or help raise awareness by setting up a peer-to-peer fundraising similar to GoFundMe or Facebook campaigns, please visit www.thebigpayback.org/roxy
Until 6:00pm on Thursday, May 7th, your contributions could be amplified throughout the event by incentives, bonuses, and prizes made possible by The Big Payback sponsors.
Thank you so much for supporting the Roxy Regional Theatre! We are especially grateful, during these challenging and unprecedented times, for your commitment to keeping Tennessee one of the most generous states in our country.
About the Roxy Regional Theatre
The Roxy Regional Theatre is a 501(c)(3) nonprofit organization dedicated to producing professional live theatre and promoting the arts, with emphasis on education, in Clarksville, Middle Tennessee and the Southeast. The theatre is located at 100 Franklin Street in Historic Downtown Clarksville.
For more information, visit www.roxyregionaltheatre.org