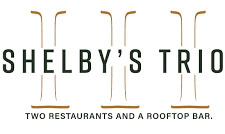 Clarksville, TN – Shelby's Trio, Joe, and Cathi Maynard's three-story restaurant which features a different concept on each floor, is now open in Downtown Clarksville.
The main level features Joe's Garage, an American eatery with a bar area and outdoor seating. Guests can also view muscle cars from Joe's collection while they dine.
The second floor is home to Trattoria di Cat, an elegant Italian restaurant, that has been on Cathi's bucket list for more than twenty years.
And, in a Clarksville first, Skyline 500 is a rooftop bar that sits atop this gorgeous building and provides a never-before-seen view of Downtown Clarksville.
Sara Golden, of Trio Hospitality, oversaw the project. "We opened the rooftop first," Golden said. "About a week later we opened the Italian restaurant, and today we're opening Joe's Garage. So, now Shelby's Trio is fully open.
Joe's Garage and Skyline 500 will be open seven days a week. Trattoria di Cat will be open five days a week.
"We've decided to open Cat's Thursday – Monday," Golden said. "Many local restaurants are closed on Mondays. We wanted to give diners a Monday night option. We also want to provide a really consistent experience up there, so Cat's will have a dedicated full-time staff.
"Joe's is an American-style restaurant that's family-friendly. Joe's menu features eight different types of burgers, a club sandwich, and a Philly steak sandwich, wings – just lighter fare. The second floor provides an elevated dining experience. We don't want to call it fine dining, there isn't a dress code. It just has a more elegant feel. There is also a private dining room for parties and/or meetings. And, of course, we can't wait for everyone to join us for a cocktail at our rooftop bar, and take in the breathtaking views."
Golden says the menus have been created by Chef Juan Peralta, and that Shelby's Trio is a 99% from-scratch kitchen, featuring pasta and many other items that are homemade.
"We've been building Shelby's Trio for two years," Golden said. "We are very excited to bring this to Clarksville, and to share it with the community."
Shelby's Trio is located at 304 North Second Street. More information, menus, and hours of operation can be found at www.shelbystrio.com, as well as on Instagram, and Facebook.
Photo Gallery