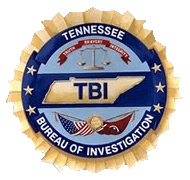 Nashville, TN – At the request of 23rd Judicial District Attorney General Ray Crouch, Tennessee Bureau of Investigation (TBI) special agents are investigating the circumstances leading to an officer-involved shooting that occurred Friday evening in Dickson County.
Preliminary information indicates that during the afternoon of March 24th, deputies with the Dickson County Sheriff's Office conducted a welfare check in the 1000 block of Potter Road.
While speaking with an individual at the address, deputies report the man retreated into a residence on the property with another person and refused to come out or let the other individual leave.
At some point during the negotiations, reports from the scene indicate the man inside the residence fired at deputies and struck a Dickson County Deputy. The deputy was transported to an area hospital for treatment.
At approximately 8:30pm, during negotiations with the armed individual, for reasons still under investigation, shots were fired, and the man was fatally wounded. The deceased individual has been identified as Mark Engele (DOB: 5/6/70). No other officers or individuals were injured in this incident.
At this time, this investigation remains active and ongoing. TBI agents are working to independently determine the series of events leading to the shooting, including collecting evidence and conducting interviews.
Throughout the process, investigative findings will be shared with the District Attorney General for his further review and consideration. The TBI acts solely as fact-finders in its cases and does not determine whether the actions of an officer were justified in these types of matters. That decision rests with the District Attorney General requesting TBI's involvement.
The TBI does not identify the officers involved in these types of incidents and instead refers questions of that nature to their respective department to answer as it sees fit.