Topic: APSU Halloween Percussion Concert
Austin Peay State University (APSU)

Clarksville, TN – It's Homecoming Week at Austin Peay State University (APSU)! Here are some of the things happening this week on campus.
Homecoming Week culminates at 4:00pm Saturday, October 27th, 2018 when the Austin Peay Football Govs host Tennessee Tech at Fortera Stadium. Read about the game here. But there's a bunch going on this week leading up to (and after) the game.
«Read the rest of this article»

Clarksville, TN – David Steinquest, Austin Peay State University professor of music, sat rubbing his gray beard, looking a little tired. For thirty-two years, he's hosted the APSU Department of Music's wildly popular Halloween Percussion Concert, and each fall, he tries to top the previous year's performance.
"This is the biggest one ever," he said, slumping in his chair. "I might have to just quit now."
«Read the rest of this article»

Clarksville, TN – Austin Peay State University (APSU) recognized several outstanding faculty members during the annual Academic Honors and Awards Ceremony in the Mabry Concert Hall on Tuesday, April 26th.
The University's top faculty honor, the APSU National Alumni Association Distinguished Professor Award, was presented to Dr. Mike Gotcher, professor of communication.
«Read the rest of this article»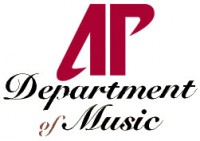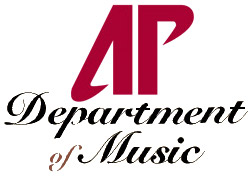 Clarksville, TN – In July, the phone started ringing in Austin Peay State University's Department of Music office, with callers interested in buying tickets for an upcoming concert.
They were a bit early, since the department's annual Halloween Percussion Concert was still a good three months away, but the callers knew that for 30 years, the wildly entertaining event usually sold out, so there was nothing wrong with being a little premature.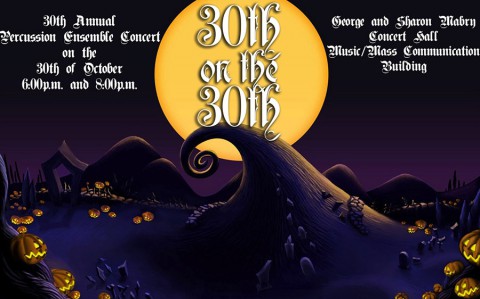 «Read the rest of this article»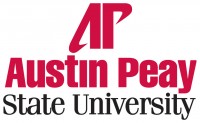 Clarksville, TN – At 6:00pm and 8:00pm on October 29th, the Austin Peay State University Department of Music will host a light-hearted, family-friendly concert about death.
"But we're going to try and make death as fun as we can possibly make it," David Steinquest, APSU professor of music, said.
This might sound a bit odd to those unfamiliar with the annual APSU Halloween Percussion Concert, but fans of the event know the theme will fit in nicely with the strange blend of music and mayhem that has come to define the wildly popular community event for the last 29 years.
«Read the rest of this article»