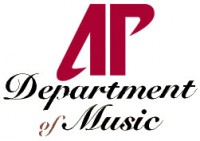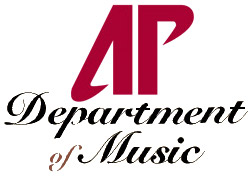 Clarksville, TN – In July, the phone started ringing in Austin Peay State University's Department of Music office, with callers interested in buying tickets for an upcoming concert.
They were a bit early, since the department's annual Halloween Percussion Concert was still a good three months away, but the callers knew that for 30 years, the wildly entertaining event usually sold out, so there was nothing wrong with being a little premature.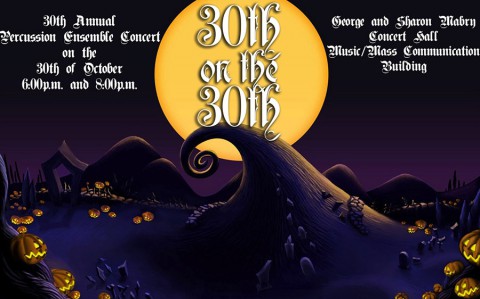 "We get calls all summer long, asking when are tickets going on sale for the Halloween concert," David Steinquest, APSU professor of music, said. "It generally sells out a week early."
Tickets are now on sale for this year's concert, "The 30th on the 30th," celebrating three decades of the popular event, with performances at 6:00pm and 8:00pm on October 30th. Steinquest started the annual concert—featuring Halloween-themed music, performers in costumes and a loose, comical atmosphere—back in the mid-1980s. What started small grew so popular over the years, he was forced to split the evening up into two performances.
"People literally got mad," Steinquest said. "They tried to come to the concert, and there were no tickets left. I got hate mail."
Tickets are still difficult to come by, and this year might offer more of a challenge because Steinquest has a big show planned for the 30th anniversary.
The program will feature "This is Halloween," from the film "The Nightmare Before Christmas;" "Once Upon a Dream," from the recent "Maleficent" movie; Franz Schubert's "Erlkönig," about magical beings attacking a young boy; and a Halloween rap arranged by Steinquest.
For the last several years, the performers have slipped garbage cans onto the stage to use as drums, and this year, Steinquest is finally embracing the bizarre instruments for a special piece on the program.
"Because this is the 30th anniversary, it needed to be a big deal," he said. "We have done pieces that have involved garbage cans or garbage cans lids. After watching a concert where the percussion group STOMP uses a kitchen sink, I wrote a piece called 'The Kitchen Sink and Everything Else.' It is probably the ultimate percussion novelty piece. It has everything."
Admission to the Halloween concert is two cans of food, which will be donated to a local charity, or $3.00. Contact the APSU Music Department office at 931.221.7818 for tickets or other information.