Clarksville, TN – Austin Peay State University (APSU) recognized several outstanding faculty members during the annual Academic Honors and Awards Ceremony in the Mabry Concert Hall on Tuesday, April 26th.
The University's top faculty honor, the APSU National Alumni Association Distinguished Professor Award, was presented to Dr. Mike Gotcher, professor of communication.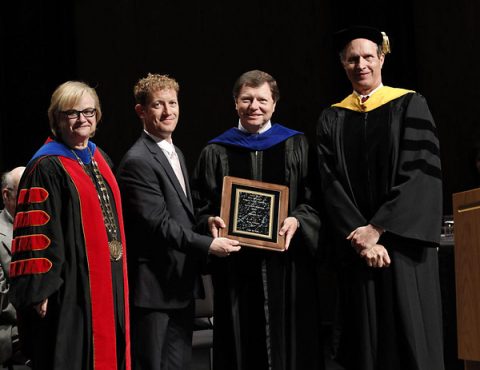 Gotcher first arrived at Austin Peay in 1976 as a college freshman, and he has spent the majority of his academic career with the University, serving as a professor, chair of the Department of Communication and interim dean of the College of Graduate Studies.
During his time at Austin Peay, he has helped developed several academic programs and he has directed more than 100 graduate theses and research projects. In 1994, he received the University's Richard M. Hawkins Award for his extensive scholarly work.
The University also presented three tenure-track faculty members with the Socrates Award, which recognizes those instructors and professors who are known around campus for their ability to inspire and motivate students. This year's recipients were Dr. Korre Foster, associate professor of music; Dr. Melissa Gomez, associate professor of Health and Human Performance; and Dr. Rodney Mills, associate professor of agriculture.
The University's Richard M. Hawkins Award, presented each spring to a faculty member who has demonstrated exceptional scholarly and creative behavior, was presented to Dr. Roman Holovchak, assistant professor of physics.
Holovchak earned his Ph.D. in optics and laser physics in 2004 from the Institute of Physical Optics in Lviv, Ukraine, and he is one of the more prolific researchers on APSU's campus, having authored more than 100 articles that have appeared in peer-reviewed publications. Twenty of those articles were produced during his three years at Austin Peay, and four of the publications were co-authored by APSU undergraduate students.
Each year, the Distinguished Community Service Award recognizes a full-time faculty member or departmental chair whose service has enhanced or will enhance the quality of life in the Clarksville-Montgomery County area. David Steinquest, professor of music, received the award this year.
For 30 years, Steinquest has organized, directed and performed in one of the community's most cherished events, the annual Halloween Percussion Concert. In those three decades, he has collected cans of food and cash donations that he has turned over to area food banks. While the concert provides a family-friendly cultural event for the Clarksville-area, it has also helped provide food for those in need in this community.
For more information on these awards, contact the APSU Office of Academic Affairs atacadaffairs@apsu.edu