Topic: APSU Lady Governors

Clarksville, TN – Fresh off its season's first victory, Austin Peay State University volleyball team treks further northward to compete in the Akron Invitational, Friday-Saturday, at the James Rhodes Arena in Akron, Ohio.
«Read the rest of this article»


NASHVILLE – Senior Nicole Jamen and sophomore Jasmine Rayner each recorded double-doubles, leading Austin Peay State University women's basketball team to a 69-60 victory against Eastern Illinois and its second consecutive Ohio Valley Conference Women's Basketball Championship, Saturday afternoon at Bridgestone Arena.
Austin Peay (15-17) won despite being seeded third in the tournament. The Lady Govs defeated sixth-seed Tennessee Tech, Tuesday, and second-seed Morehead State, Friday, before Saturday's championship victory.
As was the case in all three of its tournament wins, Austin Peay jumped out on top early. The Lady Govs scored eight of the game's first 11 points, Saturday, and ultimately would never trail in the contest. Austin Peay would later use a 15-1 run – spurred on by six points from junior Ashley Herring and four points from Jamen – over a four-minute span to push its lead to 17 points, 28-11, with 5:20 left.
«Read the rest of this article»


Tickets for Tuesday night's first-round Ohio Valley Conference Tournament first-round action are available through the Austin Peay ticket office.
Both the Govs and Lady Govs earned No. 3 seeds and will host No. 6 Tennessee Tech in Tuesday doubleheader. The Lady Govs will play at 5:30 p.m., with the Govs to follow at 7:30 p.m.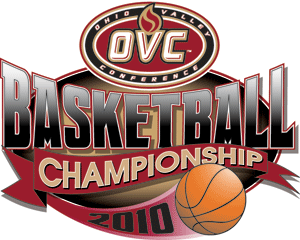 Tuesday, tickets are $10 each and will be available for purchase from the APSU Ticket Office until noon, Tuesday. Tickets also will be available at the gate.
Austin Peay season-ticket holders already have purchased this first-round tourney ticket in their season-ticket package. APSU students, meanwhile, will have 500 free tickets available to them from 11:30 a.m. – 1:30 p.m., at the Morgan University Center, both Monday and Tuesday.


NASHVILLE – An 18-point first half put Austin Peay State University women's basketball team in a hole it could not dig out as it dropped a 68-57 Ohio Valley Conference contest to Tennessee State, Saturday night at the Gentry Center.
Despite a poor shooting performance – it made just 20.7 percent of its first-half field goals – Austin Peay (9-16, 8-6 OVC) was within four points, 20-16, with 6:50 remaining in the period. But the offense went without a point for 6:42 of the remaining time, only a Whitney Hanley basket ending the drought with eight seconds remaining. Meanwhile, Tennessee State closed the half with a 12-2 run and took a 32-18 lead into halftime.
«Read the rest of this article»


NASHVILLE, Tenn. – Hampered by slow starts to both halves, Austin Peay State University women's basketball team pieced together late scoring bursts in each frame to post a 61-52 non-conference victory against Lipscomb, Tuesday night, at Allen Arena.
Lipscomb (1-2) got off to a fast start as Austin Peay had difficulty controlling the ball. The Lady Govs began the game making just 2-of-10 from the field and committed six of its 11 first-half turnovers in the opening seven minutes. The Lady Bisons took advantage and opened a nine-point, 13-4, lead with 13:33 remaining.
«Read the rest of this article»