NASHVILLE – An 18-point first half put Austin Peay State University women's basketball team in a hole it could not dig out as it dropped a 68-57 Ohio Valley Conference contest to Tennessee State, Saturday night at the Gentry Center.
Despite a poor shooting performance – it made just 20.7 percent of its first-half field goals – Austin Peay (9-16, 8-6 OVC) was within four points, 20-16, with 6:50 remaining in the period. But the offense went without a point for 6:42 of the remaining time, only a Whitney Hanley basket ending the drought with eight seconds remaining. Meanwhile, Tennessee State closed the half with a 12-2 run and took a 32-18 lead into halftime.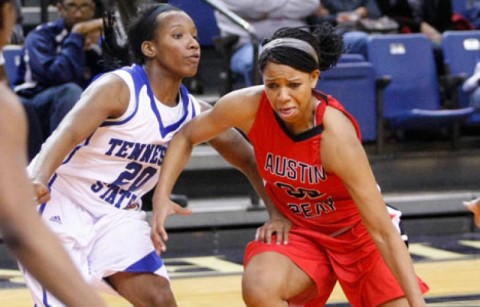 Both offenses opened up in the second half, Tennessee State (9-14, 0-0) getting the better performance to start the period. The Lady Tigers built their lead to 22 points, 52-30, with 13 minutes remaining.
Austin Peay cut the lead to single digits courtesy a 17-4 run over the next six minutes. The Lady Govs did their damage at the line, making 9-of-10 during the stretch, with Meghan Bussabarger adding five points from the field.
Tennessee State regained control by scoring the next four points and it was not threatened again.
The Lady Govs scored 26 points from the free-throw line – they made a season-best 83.9 percent for the contest – nearly topping their output from the field (31 points). Austin Peay made just 14-of-53 from the field, tying a season-low for field goals made.
Ashley Herring led the Lady Govs with 14 points and Nicole Jamen and Brooke Faulkner each added 10 points. Dalila Thomas came off the bench to grab a team-high seven rebounds.
Tennessee State had no such offensive troubles, making 45.5 percent (25-of-55) of its field goals and 42.9 percent (6-of-14) of its three-pointers.
The Lady Tigers' Meredith Stafford led all scorers with 25 points, making nine field goals. Oby Okaford added 14 points.
Austin Peay returns home for its final regular-season homestand, beginning with a 5:15 p.m., Thursday contest against Jacksonville State. That game has been rescheduled from its original 7 p.m. start.