NASHVILLE – Senior Nicole Jamen and sophomore Jasmine Rayner each recorded double-doubles, leading Austin Peay State University women's basketball team to a 69-60 victory against Eastern Illinois and its second consecutive Ohio Valley Conference Women's Basketball Championship, Saturday afternoon at Bridgestone Arena.
Austin Peay (15-17) won despite being seeded third in the tournament. The Lady Govs defeated sixth-seed Tennessee Tech, Tuesday, and second-seed Morehead State, Friday, before Saturday's championship victory.
As was the case in all three of its tournament wins, Austin Peay jumped out on top early. The Lady Govs scored eight of the game's first 11 points, Saturday, and ultimately would never trail in the contest. Austin Peay would later use a 15-1 run – spurred on by six points from junior Ashley Herring and four points from Jamen – over a four-minute span to push its lead to 17 points, 28-11, with 5:20 left.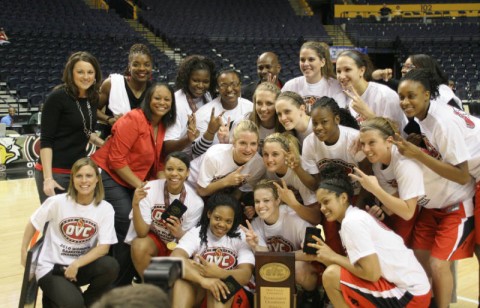 Eastern Illinois (23-10) closed the half with an 11-2 run, including the half's final six points, to cut the lead to eight points, 30-22, at halftime. The Panthers were hampered in the opening period by 5-of-22 (22.7 percent) shooting and were able to stay close courtesy a 10-of-15 (66.7 percent) performance at the free-throw line. The Lady Govs defense also caused trouble by forcing 10 EIU turnovers in the period which they turned into 13 points.
The Panthers put a scare into the Lady Govs early in the second half, cutting the lead to one point, 40-39, with 12:19 remaining. Maggie Kloak scored a pair of field goals in the burst and Ta'Kenya Nixon's jumper put EIU on the cusp of its first lead.
However, Austin Peay scored the game's next 12 points over four minutes to push the lead back into double digits. That burst was just the start of a 17-4 run that lasted almost nine minutes – concluding with Austin Peay holding a 57-43 lead with 3:48 remaining.
Eastern Illinois would take one last run at closing the gap and scored seven straight points in the final minute to cut the lead to six points, 66-60, with 29 seconds left. But Austin Peay made three of its final four free throws attempts in the last minute to hold its lead.
Jamen recorded her third consecutive double-double – a 19-point, 11-rebound performance – and was named to the all-tournament squad. Rayner added a 12-point, 10-rebound double-double – her second straight. Herring nearly added a double-double of her own, scoring 15 points and grabbing nine rebounds and was named the tournament's "Most Valuable Player."
The entire Lady Govs starting five reached double-digit scoring territory as sophomore Whitney Hanley chipped in 12 points and junior Brooke Faulkner added 10 points.
Austin Peay emphasized rebounding and defense in each of its tournament victories and it showed against Eastern Illinois. The Lady Govs won the rebounding battle by a 47-40 count. Meanwhile, the APSU defense limited Eastern Illinois to a season-low 29.5 percent (18-of-61) shooting.
Nixon led Eastern Illinois with 22 points and Kloak added 14 points – both were named to the all-tournament team.
Austin Peay receives the OVC's automatic bid to the 2010 NCAA Women's Basketball Championship. The announcement of the 64-team bracket will take place at 6 p.m., Monday, March 15 on ESPN.