Topic: Curves
Clarksville, TN – The businesses at Sango Village will be hosting a block party on August 16th, 2014.  The local business owners have created the free event to give back to the community.
Courtney Berlyak, owner of Sango Village Florist, said, "We wanted to do something fun and enjoyable that could include all of our neighbors.  With the end of summer approaching, the block party idea was a perfect fit!" «Read the rest of this article»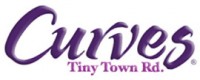 Clarksville, TN – The Tiny Town Curves location is celebrating its third birthday by raising money for the Fort Campbell Fisher House through various competitions and special events on Tuesday, September 18th.  Tiny Town Curves will open its doors to the community for a day of festivities while raising money and awareness for a cause that is important to so many of its members.
«Read the rest of this article»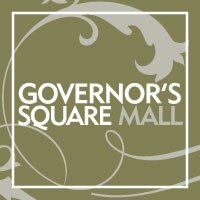 Clarksville, TN – Governor's Square Mall will be hosting our first annual community health fair on Saturday, September 15th from 10:00am-3:00pm.
Exhibitors will be set up in Center Court and Dick's Sporting Goods Court. The first 250 visitors at Center Court will receive a goody bag!
Also in Center Court, kids can pick up a free Healthy Eating Coloring Wheel! «Read the rest of this article»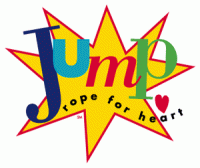 Clarksville, TN – The Children and Youth Ministry of Reconciliation Evangelistic Outreach Center (R.E.O.C.) is participating in Jump Rope For Heart, a national fundraising event sponsored by the American Heart Association (AHA) and the American Alliance for Health, Physical Education, Recreation, and Dance.
"It Takes Heart to be a Hero!" is the theme they are using for this event as they start off 2011 by getting their physical and spiritual well-being together. The children are in preparation for this event now by learning more about how to take care of their physical health. They are accepting donations and pledges now and are very excited about jumping. Different health care and support groups, such as CURVES, will be on site to give information about making healthy lifestyle choices. «Read the rest of this article»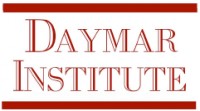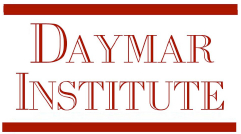 Clarksville, TN – Daymar Institute has partnered with Trane, Ad One Advertising and Little Caesar's Pizza to bring a fun alternative to your Saturday night – PlayDate Clarksville!  Adults 18 and over are invited to come out and play the games everyone loved as kids.
Games will include interactive trivia with Joe Woztkiewicz, chess with the Clarksville Chess Club, Twister, Texas Hold'em, Spades and many more! Tell all your friends! It's Game Night at Daymar Institute, Saturday November 6th from 7:00pm to 11:00pm.  «Read the rest of this article»
On Saturday, the Hispanic Organization for Progress & Education (H.O.P.E.) held their annual Women's Day Conference. The event seeks to empower women by helping them with the issues they must deal with in their lives. Topics covered at the conference included Education, Health, Parenting, Beauty, and Cooking. The various presenters discussed these topics in sessions held throughout the day.
Betty Burchett, the Montgomery County Assessor of Property represented the County Government as Montgomery County Mayor Carolyn Bowers was unable to attend due to prior commitments. When asked before the conference opened for her view on H.O.P.E.'s Woman's Day Conference She said "I am tickled to death, it's a great opportunity for women, and any time you can empower women it's a good thing."
«Read the rest of this article»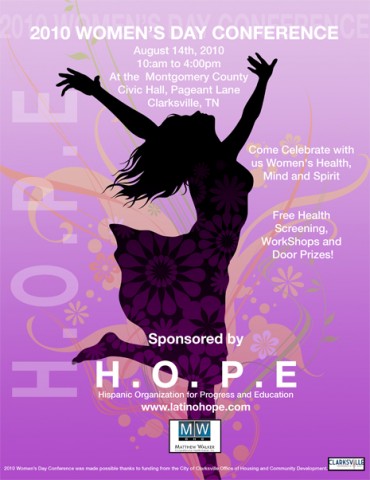 On Saturday from 10:00am till 4:00pm the Hispanic Organization for Progress & Education (H.O.P.E.) will be holding their 2010 Women's Day Conference at the Montgomery County Civic Hall at Veterans Plaza (350 Pageant Lane).
The conference will provide a wide variety of information and activities for women including health screenings, Cooking and Home Decor tips, food samples, hand-made crafts, Satin Hands, Make-overs, a Clothes Closet, hourly prizes, and much more!
Valerie Guzman will be the Emcee for the day. Special guests include Mrs. Tennessee International Cydney Miller and Social Entreprenur April Boyed-Noronha will also be on hand.
So come on out and be a part of this amazing celebration of Women's Heath, Mind, Body, & Spirit. «Read the rest of this article»