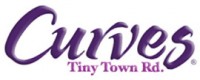 Clarksville, TN – The Tiny Town Curves location is celebrating its third birthday by raising money for the Fort Campbell Fisher House through various competitions and special events on Tuesday, September 18th.  Tiny Town Curves will open its doors to the community for a day of festivities while raising money and awareness for a cause that is important to so many of its members.
The Fisher House provides a "home away from home" for military families that need to be close to their loved ones during hospitalization for illness, disease or injury.  Charitable contributions are an important source of income for the Fisher House, and Tiny Town Curves set a goal to raise and donate $1,000 throughout the daylong birthday celebration.
The club will be open from 5:50am until 8:00pm with various competitions and classes taking place throughout the day.  A minimum donation of $1.00 will enter you into the pull-up or tire-flipping contest from 4:00pm-6:00pm, so gather a partner and test your skills against the Curves fitness coaches.  Purchase a $7.00 ticket in advance ($10.00 at the door) to stick around for a two hour Zumbathon taught by multiple instructors from 6:00pm-8:00pm.
If you'd rather spend the day pampering yourself, stop in earlier for a free hand massage from 2:00pm-3:30pm and 5 Hour Energy drink from 3:00pm-6:00pm.
If you've considered joining a gym for a while but have yet to take the first step towards enrolling, mark your calendar for September 18th.  Tiny Town Curves will offer a discounted enrollment of just $25.00, which will be donated to the Fisher House. In addition to circuit training Curves also offers specialty classes like Zumba and PIYO! Do something great for yourself while supporting your community by enrolling.
Please visit Curves Tiny Town on Facebook for updates, videos, challenges and a complete schedule.  We are located at 921-C Tiny Town Road in Clarksville, TN, and can be reached at 931.542.1931.
About the Fisher House
The Fisher House program is a unique private-public partnership that supports America's military in their time of need. The program recognizes the special sacrifices of our men and women in uniform and the hardships of military service by meeting a humanitarian need beyond that normally provided by the Departments of Defense and Veterans Affairs.
Because members of the military and their families are stationed worldwide and must often travel great distances for specialized medical care, Fisher House Foundation donates "comfort homes," built on the grounds of major military and VA medical centers. These homes enable family members to be close to a loved one at the most stressful times – during the hospitalization for an unexpected illness, disease, or injury.
There is at least one Fisher House at every major military medical center to assist families in need and to ensure that they are provided with the comforts of home in a supportive environment. Annually, the Fisher House program serves more than 17,000 families, and have made available over four million days of lodging to family members since the program originated in 1990. By law, there is no charge for any family to stay at a Fisher House operated by the Department of Veterans Affairs; and Fisher House Foundation uses donations to reimburse the individual Fisher Houses operated by the Army, Navy, and Air Force. No family pays to stay at any Fisher House!
In addition to constructing new houses, Fisher House Foundation continues to support existing Fisher Houses and help individual military families in need. We are also proud to administer and sponsor Scholarships for Military Children, the Hero Miles program, and co-sponsor the Newman's Own Award.
About Curves Tiny Town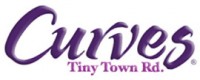 Created specifically for women, Curves offers a complete fitness and nutrition solution.  The Curves 30 minute workout exercises every major muscle group and burns up to 500 calories through a proven program of strength training, cardio and stretching.  In addition, Curves Tiny Towns events encourage women to support charitable causes, learn about health-related issues and forge lasting friendships as part of the global Curves community.