Topic: David von Palko

Clarksville, TN – The national anthem was missing. Inside a small, dilapidated building on the Austin Peay State University (APSU) campus, three students frantically searched through vinyl albums and beneath heavy reel-to-reel tapes for the record.
It was the early 1980s, and the clock inside the University's new radio station, WAPX-FM, was about to hit midnight.
«Read the rest of this article»

Clarksville, TN – In the span of two weeks at Austin Peay State University (APSU), two remarkable discoveries of long-forgotten items opened a torrent of memories for two professors with decades-old ties to the school.
The first discovery happened on August 1st, 2019 when an electrician's assistant working in Kimbrough Building found a billfold that had been missing since 1987.
«Read the rest of this article»

Clarksville, TN – When Charles Crow started filming everyday life in downtown Clarksville, there was no such thing as YouTube or iPhones or even the Internet.
The year was 1937, and Crow, a young editor with The Leaf-Chronicle, had just purchased a 16-millimeter Keystone Camera—one of the first affordable film cameras sold in the U.S. It only captured images in black and white and without sound.
«Read the rest of this article»
Written by Jordan Davis
APSU Intern
Clarksville, TN – The Austin Peay State University Department of Communication was well represented at the 51st Annual National Undergraduate Student Electronic Media Competition in Burbank, California, on March 15.
The competition was part of the weeklong National Broadcasting Society Convention. At this year's event, APSU students Josh Stephenson and Ethan Schmidt received the Best Audio Sports Program award for the Govs Sports Talk show on APSU's WAPX-FM Radio. «Read the rest of this article»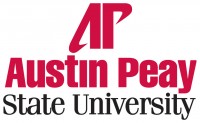 Clarksville, TN – Before going inside the Austin Peay State University Music/Mass Communication Building for a class or performance, bring a smartphone.
And have a QR code reader app installed on the phone to view and hear the new Time Magazine Person of the Year exhibit, every issue ever produced on the distinction beginning with the 1927 cover.
«Read the rest of this article»