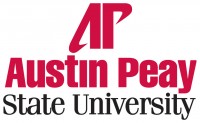 Clarksville, TN – Before going inside the Austin Peay State University Music/Mass Communication Building for a class or performance, bring a smartphone.
And have a QR code reader app installed on the phone to view and hear the new Time Magazine Person of the Year exhibit, every issue ever produced on the distinction beginning with the 1927 cover.
The building's first-floor walls near the APSU Department of Communication office contain rows of professionally framed Time Magazine covers, all arranged by decade. A QR code appears in the corner of every cover, allowing visitors to use their smartphones to read the code and listen to audio about each Person of the Year.
"People will see and hear how the world has changed based on the impact of these individuals," Dr. Mike Gotcher, professor and chair of the communication department who organized the exhibit, said.
Students studying the various disciplines in the communication department, such as journalism, broadcasting and production, will learn about the exhibit in more detail. Gotcher said curriculum has been compiled for all instructors in the department to use in their courses.
In addition, students from all academic backgrounds will benefit from the exhibit, Gotcher said.
"This can help give students a foundation to begin additional research," he said.
Gotcher began working on the exhibit in September 2012. He was able to locate and access copies of each Time Magazine cover online. He then assembled a team of faculty to assist in the audio for the project during the Spring 2013 semester.
John Moseley, associate professor of communication, wrote the script for each Time cover. Daniel Humberd, an instructor in the department, recorded the individuals involved in the project, and Dr. Frank Parcells, professor of communication, uploaded the audio files for QR coding and placed them on the communication department's Web server.
APSU President Tim Hall provides the overview for each decade.
Here is a list of readers from the APSU community who recorded the decades:
John Moseley, 1920s.
Dr. Sara Gotcher, associate professor of theater, 1930s.
Carol Clark, director of community and business relations and executive assistant to the president, 1940s.
Dr. David Kanervo, professor of political science, 1950s.
Dr. David von Palko, professor of communication, 1960s.
Dr. George Mabry, professor emeritus, 1970s.
Dr. Christina Hicks-Goldston, assistant professor of communication, 1980s.
Dr. Jim Parker, assistant professor of communication, 1990s.
Kenisha Burke, instructor of communication, 2000s.
Dr. Pam Gray, associate professor of communication, 2010s.
Gotcher said he plans to continue improving the project.
For more information, contact him by email at gotcherm@apsu.edu.