Topic: Fuse
Clarksville Police Department

Clarksville, TN – Law Enforcement, Clarksville Fire Rescue, Homeland Security and Emergency Management were on scene at the 2400 block of the 41A Bypass in response to a bomb threat.
Around 11:55am, on Thursday, December 13th, 2018 a business received an email threat which, in part, follows below:
"Good day. There is an explosive device (Tetryl) in the building where your business is located. It was built according to my guide. It can be hidden anywhere because of its small size, it is impossible to damage the structure of the building by this bomb, but if it explodes there will be many victims.
«Read the rest of this article»

Montgomery County, TN – Teamwork between Montgomery County Sheriff's patrol, criminal investigations and K9 units early this morning led to the immediate recovery of stolen property from an aggravated burglary and the discovery of child abuse.
Just after midnight, Deputy Shanna Grice responded to a call on Kay Road where the victim said he had possibly noticed his neighbor, Richard Allen, 32, run from his back yard. Deputies noticed that the home, two garden sheds and a vehicle had been burglarized.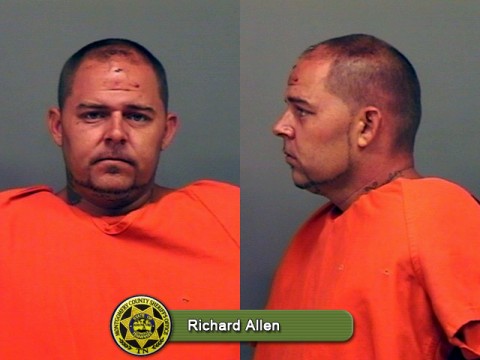 «Read the rest of this article»

Montgomery County, TN – Deputies with the Montgomery County Sheriff's Office are continuing the search for one of two juveniles who escaped transport earlier this afternoon.
The two were being transported from court back to Middle Tennessee Juvenile Detention by a correctional officer with the facility.
Around 1:00pm, passersby called 911 when the juveniles jumped from the back window of the transport van at the stoplight at state routes 48 and 149.
«Read the rest of this article»

Clarksville, TN – The Clarksville-Montgomery County community gathered in front of Gary Mathews Motors (1100 Ashland City Road) yesterday morning, to recognize them for a generous contribution which allowed the Montgomery County Sheriff's Office to purchase 5 customized bullet and stab resistant vests for the MCSO K-9 Unit.
"A very special and elite team of law enforcement officers exist, who having undergone years of rigorous training. On a daily basis, these teams prove their loyalty and dedication to their community including Montgomery County's own K9 Unit," said Gary Mathews, President and CEO of Gary Mathews Motors.
«Read the rest of this article»