Clarksville, TN – The Clarksville-Montgomery County community gathered in front of Gary Mathews Motors (1100 Ashland City Road) yesterday morning, to recognize them for a generous contribution which allowed the Montgomery County Sheriff's Office to purchase 5 customized bullet and stab resistant vests for the MCSO K-9 Unit.
"A very special and elite team of law enforcement officers exist, who having undergone years of rigorous training. On a daily basis, these teams prove their loyalty and dedication to their community including Montgomery County's own K9 Unit," said Gary Mathews, President and CEO of Gary Mathews Motors.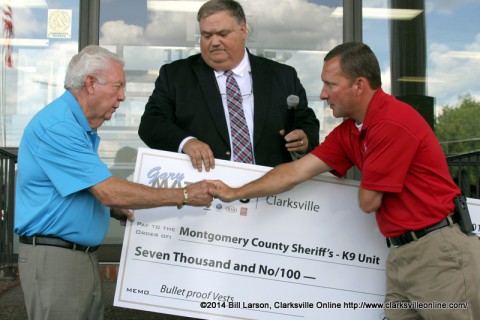 "We're proud to be able to help support this amazing group. Our being able to do this for the Sheriff's Office makes our entire team feel good! We've been here on this car lot for 40 years, it will be 40 years in November," Mathews stated. "And we're just thankful for the people of Montgomery County and adjoining counties; they've all been good to us, and that lets us do things like this to help the community!"
"We're out here today to thank Gary Mathews, and the Mathews Motor Group for their recent contribution to our K-9 program,"  said Montgomery County Sheriff John Fuson. "For those of you that don't know Gary Mathews and his team here came up with a way to get back to Public Safety and to the community of Clarksville-Montgomery County by donating some funds to purchase some stab proof and ballistics proof vests for our K-9's."
He continued, "We have anywhere from $20,000-$30,000 wrapped up in each one of these dogs. This is the first time that we've been able to provide ballistic and stab proof protection for our K-9's," stated Fuson. "These dogs are an asset for us to use in the field to protect the public, and these vests make it possible for them to better protect both the public and their human partners."
Fuson concluded, "Montgomery County Sheriff's office is always been known to have a strong K-9 program and over the recent years we have worked to make the program even better. We're proud to be here today, and we want to thank the Mathews Motor Group and Mr. Gary Mathews, for their contribution towards helping us protect our investment."
"The bulletproof vest they were getting from Mr. Mathews and his associates provides an additional layer of protection for the dogs, just like the Sheriff's office provides our human deputies with a bulletproof vest to wear." said Sgt. Mike Oliver the head of the MCSO K-9 Unit. "More and more each week across this country there are a lot of K-9's are being hurt, shot, or killed. It seems as if the bad guys don't really care anymore."
"A fully trained police K-9 is a huge investment in time and money, so we want to protect them as much as we can. We protect them by keeping them air-conditioned in the summer, by keeping them in good health, and by these bulletproof vests." stated Oliver. "This is going to be another protection that we have to keep these dogs healthy, and provide a long career protecting the citizens of Montgomery County."
The Montgomery County Sheriff's Office utilizes its highly trained four-legged K9 Unit, consisting of Belgian Malinois and German Shepherds, who search and rescue, sniff out dangerous drugs and explosives, track criminals, detain dangerous individuals, and assist in traffic stops. The Unit is comprised of Sgt. Mike Oliver with Links (Drug dog), Deputy Chris Bedell with Merlin, Deputy Jacob Kent with Titan, Deputy Kelly Potter with Mallie, and Deputy Eric Trout with Fuse (Explosives). Deputy Bedell and dog Merlin is assigned to the 19th Judicial District Drug Task Force.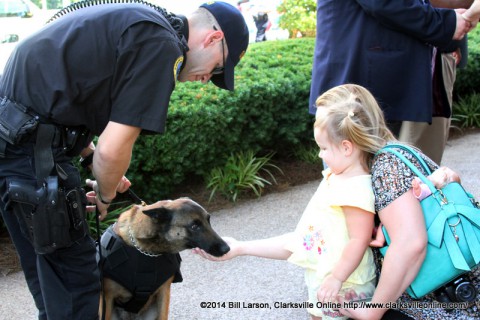 "Pete Hall a long time manager of Gary Mathews thought of the idea, and we all immediately agreed that this was a great way to give back to the community," said Mark Blick of Gary Mathews Automotive and Terry Yarbrough of Gary Mathews VW Kia.
"When the Gary Mathews Automotive team saw the need, they were very excited about helping us, with a vest for each of our 5 dogs," said Fuson. "We appreciate them supporting the Montgomery County Sheriff's Office and the Citizens of Montgomery County."
Clarksville Mayor Kim McMillan was also on hand, "I just want to say on behalf of the City of Clarksville we are so proud of Sheriff Fuson and his entire team at the Montgomery County Sheriff's office for they do to help protect all of us, make us safe, and do everything they can in this K-9 group of folks and their furry friends do a wonderful job in helping us, solving crimes, and making this city work; and we at the city are appreciative of everything that you do!"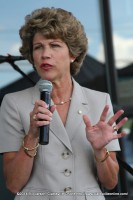 "And we'll really appreciative of Gary Mathews and his entire staff here at Gary Mathews motors for really coming up with the idea to be able to get back to our community and do something in a way that can really be a positive experience for all of us," said Mayor McMillan. "So on behalf of the City of Clarksville thank you Gary and your entire team; thank you Sheriff Fuson and your entire team and for everything that you do we are proud of you keep up the good work!"
"Gary Mathews and his team are going to continue to give back to the community in every way that they can, that is our partnership but especially to the Montgomery County Sheriff Department, the military, and other things that are of interest to Gary Mathews automotive and the community also." said Bobby Williams President of A3 marketing who served as the emcee of the ceremony.
"Gary Mathews has been here for over 40 years in the automotive business, they have Nissan; VW; Chrysler, Jeep, Dodge and Ram; and Kia," stated Williams. "From those businesses what we can get back we do! Mr. Mathews is very generous and he's been a part of the community for years. He has a real love for Clarksville and surrounding areas. So he's always trying to find ways we can help the community."
The Gary Mathews Automotive Group consists of Gary Mathews Motors, Gary Mathews Kia, Mathews Nissan, Gary Mathews VW and Mathews Pre-Owned Super Centers.
Photo Gallery