Topic: Heather boyce

Clarksville, TN – A woman is charged with Aggravated Assault after allegedly stabbing her husband with a needle contaminated with Hepatitis C.
On May 17th, 2012, Clarksville Police opened an investigation into an allegation that Nakesha Eastland may have stabbed her husband with a needle contaminated with Hepatitis C on April 27th, 2012, time frame.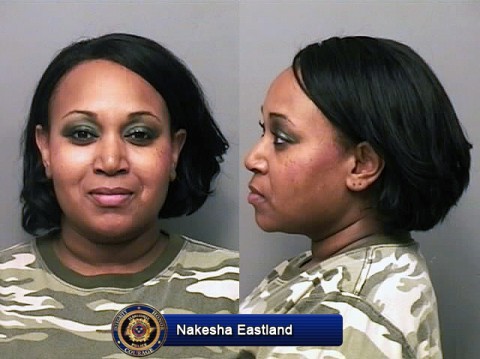 «Read the rest of this article»

Clarksville, TN – On December 20th, 2011, around 1:30am, Police were called to 3837 Aly Sheba Drive about several teenagers fighting. After officers arrived at the residence, they were made aware that a man may have been shot and was headed to the hospital in a privately owned vehicle.
Subsequently, a 19 year old male arrived at the emergency room with a gunshot wound to the leg.
«Read the rest of this article»

Clarksville, TN – A man on probation until 2016 for Theft, with numerous previous felony convictions, now has Two warrants on file for Rape and has been successfully eluding law enforcement. The warrants were taken after investigations conducted by Detective Heather Boyce and Detective Eric Ewing.
Erastus James Mummery's (W/M, DOB: 12/17/83) Rape warrants stem from allegations of two separate incidents of rape occurring  with different victims, time frames, and locations. Detective Boyce's investigation was in reference to a September 2010 sexual assault which was recently reported.
«Read the rest of this article»

Clarksville, TN – Clarksville Police are looking for a man whose company took thousands of dollars from victims to perform home repair or improvement work, but never started the projects, shut down the business, and has not refunded the down payment money.
Jacob Louis Smith is the owner of Clarksville Home Exteriors, the  business which provided written estimates and contracted with the victims to perform home improvement work. The victims were required to pay half of the contracted price down and the other half upon completion of the work. «Read the rest of this article»

Clarksville, TN – Police are investigating an alleged robbery which occurred last night in the area of Timber Court apartments at the corner of Dunbar Cave and Old Russellville Pike.  On April 11th, around 9:53pm, officers were called to the area of Timber Court about a shooting in progress and a man possibly being shot in the leg.
A witness heard a gunshot and saw a man possibly being pushed out of a vehicle. The man who had been pushed from the vehicle fled on foot from the area.  When Police arrived on the scene they were unable to locate a victim or suspect in the area. A short time later, a 21 year old man showed up at the emergency room who had sustained a gunshot wound to the groin area. «Read the rest of this article»

On August 29th, between 10:00pm and 11:00pm, two vehicle burglars found easy targets at an Ashland City Road apartment complex when they located three unlocked vehicles in the complex's parking lot. Two men rummaging through vehicles and prowling through the area got the attention of two apartment dwellers; both called 911 to report the suspicious activity.
One of the alert citizens kept an eye on the would-be burglars and advised responding officers of clothing and suspect descriptions and that they were headed toward Glendale Drive. Officers arrived in the area and found two men matching a witness' description. When the men saw the officers, they took off running, but were apprehended after a short foot chase; one man provided officers a false name after being caught.
«Read the rest of this article»

A 15 year old female juvenile was charged after making an allegation of rape which was found to be untrue.  In the first part of May, a 15 year old female claimed that she had been raped on school property by a 16 year old male student. An investigation by Detective Heather Boyce determined that a rape or sexual assault did not actually occur.
Her investigation furthered revealed the two juveniles were involved in consensual sex which took place at the 16 year olds residence and the female was upset because the 16 year old  had told others about their sexual encounter. 
Detective Boyce secured a juvenile petition and charged the 15 year old with FALSE REPORT.