Clarksville, TN – A woman is charged with Aggravated Assault after allegedly stabbing her husband with a needle contaminated with Hepatitis C.
On May 17th, 2012, Clarksville Police opened an investigation into an allegation that Nakesha Eastland may have stabbed her husband with a needle contaminated with Hepatitis C on April 27th, 2012, time frame.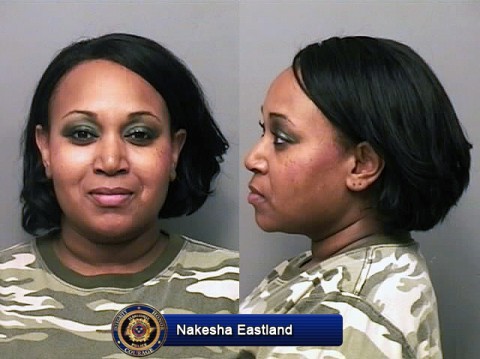 Detective Heather Boyce was told by the 35 year old victim that on April 27th he and his wife were having a conversation about their marriage issues. He told Detective Boyce that, without provocation, Nakesha Eastland stuck him with a needle in his left arm drawing a small amount of blood. The victim did not actually see the object, but thought it was something like a needle or lancet.
When he asked her what she did, Nakesha Eastland laughed and told him he would now have Hepatitis C. Her husband did not think anything serious had happened and thought she was joking.
On May 17th, there was a confrontation between the husband and wife. Shortly after the confrontation, the victim received texts from Nakesha Eastland telling him the needle she stuck him with was going to make him sick with Hepatitis C.
During the interview with Nakesha Eastland, she conveyed that she did stick the victim with a needle and told him he would get HEP C, but that it was a clean needle and he had put his hands on her first.
The husband believed his wife since she works as a phlebotomist and knew that she had the means and access to obtain contaminated needles.
A warrant was secured for Aggravated Assault by Detective Boyce on May 24th, 2012.
Eastland turned herself into Montgomery County Jail around 1:30am, May 26th, 2012 and was served with a warrant for Aggravated Assault.
Nakesha Eastland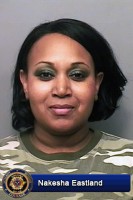 Name: Nakesha Waneik Eastland (B/F)
DOB: 11/11/77
Given Address: 222 Harold Drive, Clarksville, TN
Arresting Officer: Bernadette Russell-Bailey
Charged With: Aggravated Assault
Booked Into: Montgomery County Jail
Bond: $2,500.