On August 29th, between 10:00pm and 11:00pm, two vehicle burglars found easy targets at an Ashland City Road apartment complex when they located three unlocked vehicles in the complex's parking lot. Two men rummaging through vehicles and prowling through the area got the attention of two apartment dwellers; both called 911 to report the suspicious activity.
One of the alert citizens kept an eye on the would-be burglars and advised responding officers of clothing and suspect descriptions and that they were headed toward Glendale Drive. Officers arrived in the area and found two men matching a witness' description. When the men saw the officers, they took off running, but were apprehended after a short foot chase; one man provided officers a false name after being caught.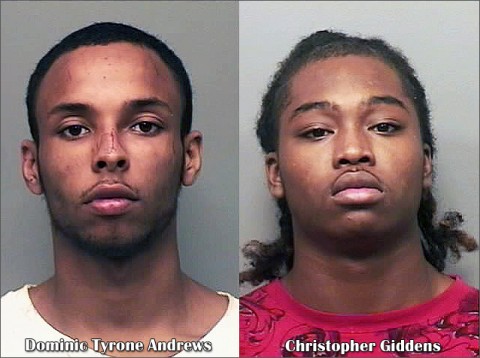 Upon investigation, it was found that three unlocked vehicles had been entered and items were taken. The two suspects were found with the stolen items in their possession in a backpack.
Witnesses were also able to identify the suspects as the ones who entered the vehicles; one vehicle owner was not yet aware their vehicle had been burglarized.
Christopher Giddens
Christopher Allah Giddens (B/M)
DOB: 9-29-90
Given Address: 904 Lucas Ln, Clarksville, Tennessee
Charged with:  Three Counts of Vehicle Burglary, and Resisting Stop, Halt or Frisk
Bond: $15,500 
Dominic Tyrone Andrews
Dominic Tyrone Andrews (B/M)
DOB: 2-18-91
Given Address: 545 Maple Hills, Apt J-5, Clarksville, Tennessee
Charged with: Three Counts of Vehicle Burglary, and Resisting Stop, Halt, or Frisk, Criminal Impersonation,and a warrant for Violation of Probation. 
Bond: $23,500.
Both have a previous history involving Aggravated Robbery. 
The lead investigator is Detective Heather Boyce, 931-648-0656, ext 3003.