Topic: Obama/Biden
A number of precincts in Clarksville/Montgomery County reported "heavy" early voting as the official November 4 Election Day got underway. Polls opened at 7 a.m. to heavy traffic, which thinned a bit by mid-morning. The evening "rush" is expected to be just that: a rush to the polls and potentially long lines. A check with several precincts though reports indicate the voting process is moving fairly quickly.
At the Jaycee's on Hwy 48 (District 5), "we've had more people in the first hour than we had in the entire primary election." The words "steady stream" and "heavy" turnout were heard at virtually every polling place. The early voting period saw a 40% turnout, and given the number to this hour, another 30-40% could vote by days end.
Campaigners with Obama/Biden and McCain/Palin joined up with Tim Barnes and Rosalind Kurita supporters to stake out visible spots at all polling sites.
Registered voters have until 7 p.m. to get in line to cast their vote; a significant turnout is expected as the "after work" voters arrive.
Clarksville for Obama and the Montgomery County Democratic Party gathered over the weekend to rally for Obama.
Staking out the corner of Kraft and North 2nd Street Saturday morning, some 60 campaigners chanted slogans, waved to passers by, and stumped to get the message out that Obama is their candidate of choice. To the rhythm of drum, and cheers ringing out over a speaker system, Clarkville for Obama teams moved from corner to corner over a two hour period. «Read the rest of this article»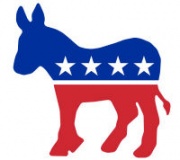 Last chance to get Obama/Biden yard signs.
The Montgomery County Democratic Party has received its last shipment of Obama/Biden yard signs and bumper stickers for the 2008 Election. Signs are available now at MCDP headquarters at Madison Street and University Drive during regular business hours, from 9 a.m. to 6 p.m. weekdays and 9 a.m. to 3 p.m. Saturday.
A spokesman for MCDP said once these signs are gone, "they are gone."  He noted that demand has been high, and previous shipments have been depleted 'within days."
For more information, call MCDP at 931- 552-5523.
Veteran's Plaza looked a bit like Times Square in New York City Wednesday as voters poured into Election Commission quarters to cast the first votes in Election 2008. The parking zones were a gauntlet of hundreds of cars, a sea of political signs, and a gathering of waving campaigners eager to make one last pitch for their candidate of choice. The stakes, both local and national, are high.
The Obama/Biden McCain/Palin bout is the headliners, presidential tickets that read like a history-making vote for change with a man who could be the country's first African American president or what some fear will be a Bush redux, same old same old, in the top slot and America's first potential female in one of the top two federal slots. «Read the rest of this article»
When the BBC Election Bus pulled into Clarksville, its first news stop was the Montgomery County Democratic Party headquarters on Madison Street, where a steady stream of area resident surged in and out, registering to vote and picking up Obama/Biden signs from a rapidly depleting stockpile (more signs due in Tuesday, October 7).
The BBC Election bus originated its trip in Los Angeles, and is working its way across middle America, talking to everyday Americans and catching the Presidential and Vice-presidential debates along the way. The bus trips end on Long Island, but the teams will continue to feed political news through the election on November 4.
MCDP Chairman Gene Lewis, State Senate Candidate Tim Barnes and Clarksville for Obama Chairman Terry McMoore welcomed the BBC team to Clarksville. «Read the rest of this article»