Topic: Rally
Written by Joe Pitts
Tennessee State Representative – District 67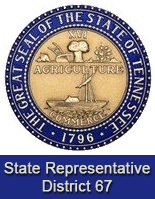 Nashville, TN – A cross burning outside the New Hope Missionary Baptist Church, 1300 Rossview Road is a tragedy of unspeakable proportions. Our community is better than that.
We are calling on the community to rally around this church on Thursday, July 31st, 7:00pm at the church. A few songs and a prayer for unity and forgiveness will be offered at the event. The event will end promptly at 7:30pm.
"Please share this news with your neighbors and fellow church members. Let us stand up as a community and say we will not tolerate this kind of hate," said Joe Pitts. «Read the rest of this article»
On September 5, 2009 Civil Rights Leaders from across the nation will gather on the grounds of the Memorial Building Mayors Office at 202 Center Avenue in Dickson, Tennessee for an all day rally from 10:00 a.m. to 4:00 p.m.
Dickson is home to one of the worst Environmental Racism cases in the history of the United States. The Holt family has been fighting for the past 10 years to bring justice and awareness to the contaminated water leaked from the county landfill. For years, the family unknowingly drank poisoned water, bathed in that water, and cooked with that water which has resulted in numerous members of the family developing cancer and even dying. «Read the rest of this article»
Nashville -Nobel Peace nominee Cindy Sheehan, Singer/Songwriter David Rovics, and the Reverend Henry Blaze will join musicians, poets, speakers, and dancers at a rally to be held on Sunday,  June 14, 2009 at the band shell in Centennial Park in Nashville from 11:00 a.m. to 7:00 p.m.
Mrs. Sheehan will be speaking about the robbery of billions of dollars to bail out financial speculators who have wrecked the economy through their greed and neglect. A small number of very wealthy people and international corporations are reaping billions of public money being bailed out and  in their pursuit of war and occupation in the Middle East. Tennesseans are losing thousands of jobs because of this irresponsible and covetous behavior. Thousands of people are saying "No more bail outs to the people and corporations that are causing so much pain and death." «Read the rest of this article»
Clarksville For Obama in partnership with the Montgomery County Democratic Party will host a Honk for Barack Obama rally on Saturday, November 1, in front of McDonald's at the intersection of Riverside Drive and N. 2nd Street, Clarksville, starting at 10:00a.m.

Bring your Honk for Obama signs (homemade or rally), wear your Obama gear and come and wave to show your support for OBAMA! This will be the final weekend  before the presidential election.
For mroe information, call 931-552-5523.
A Peace rally is being held this Friday, Oct 19th from 1:00 – 2:00 by the APSU chapter of Students for a Democratic Society (SDS).
SDS meets each week on Wednesdays at 4:00pm in the AP Bowl outside Harned Hall. Anyone who wishes to learn more about this organization is welcome attend any of their meetings. Peace!

Therapist Mary Coe spoke Saturday to hundreds of activists and angry Americans gathered in Nashville for the Walk in their Shoes rally protesting the fourth anniversary Iraq war and call for the safe return of our troops from what was repeatedly called "an unwinnable war" being waged on faulty policies." The event at Owen Bradley Park was sponsored by the Nashville Peace and Justice Center and was attended by members of Clarksville's FreeThinkers for Peace and Civil Liberties and Clarksville Online.
Coe, who was profiled on 3/14/07 in Clarksville Online, made a brief but eloquent statement on the mental health facing troops and their families after multiple deployments to Iraq and Afghanistan. "Families are devastated" by the problems returning troops experience upon their return. " Children are afraid, they feel 'anticipatory' anxiety over future deployments" or are struggling to adjust to returning parents who are moody, angry, and feeling rage. Coe said that the second deployment saw returning troops with a much higher level of emotional problems, and is afraid of what will happen when troops return from a third deployment that is expected to leave soon.

Among the speakers at the rally was Linda Englund of the Chicago-based Military Families Speak Out. She stood at the podium with a photo of her son, a two-time Purple Heart and Bronze Star marine. Her message was clear: "bring our troops home now and take care of them when they get here."
«Read the rest of this article»