Written by Joe Pitts
Tennessee State Representative – District 67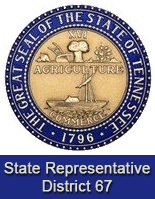 Nashville, TN – A cross burning outside the New Hope Missionary Baptist Church, 1300 Rossview Road is a tragedy of unspeakable proportions. Our community is better than that.
We are calling on the community to rally around this church on Thursday, July 31st, 7:00pm at the church. A few songs and a prayer for unity and forgiveness will be offered at the event. The event will end promptly at 7:30pm.
"Please share this news with your neighbors and fellow church members. Let us stand up as a community and say we will not tolerate this kind of hate," said Joe Pitts.
Because of the location on Rossview Road and Powell Road, please be aware of parking and other potential access difficulties.
But please show up and support the members of the New Hope Missionary Baptist Church.
Sheriff John Fuson and the Montgomery County Sheriff's Office will handle the traffic control.
If you have questions about the above or other issues of concern, please call me at 615.741.2043, or email me at