Tennessee Titans Football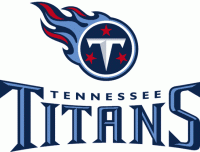 Nashville, TN – Tennessee Titans General Manager Ruston Webster's first-ever pick as general manager was Baylor wide receiver Kendall Wright, chosen in 2012 with the 20th selection in the first round.
In only two seasons, Wright has totaled 158 receptions for 1,705 yards and six touchdowns. His 158 catches are the most by anyone in the 2012 draft class and are the most in franchise history in a player's first two campaigns.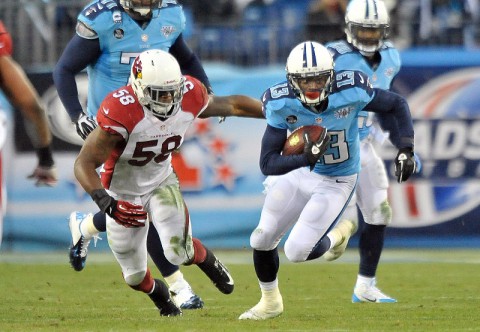 Wright is unquestionably among the featured playmakers on the offensive side, but he is not alone.
The wide receiver corps also includes one of the most experienced players on the team, Nate Washington, who is entering his 10th season and is now ranked ninth in franchise history in receiving yards.
Near the other end of the age spectrum is wide receiver Justin Hunter, a second-round pick from Tennessee in 2013 who led the team in receiving average as a rookie.
Bishop Sankey, Dexter McCluster and veteran Shonn Greene figure to be regulars in the rotation at running back. Greene, who has two previous 1,000-yard rushing seasons with the New York Jets, was signed as an unrestricted free agent in 2013 but was limited for much of the year with injuries. McCluster was used in Kansas City as a running back and wide receiver and made the Pro Bowl in 2013 as a returner.
At tight end, another 2013 free-agent signee, Delanie Walker, had one of the most prolific campaigns in team history for a player at his position.
With 60 receptions for 571 yards, he became the only Titans/Oilers tight end other than Frank Wycheck to reach 60 receptions in a single season, and his six touchdown receptions were the most by a franchise tight end since Wycheck's six in 1996.
Perhaps no position group for the Titans has transformed as much in recent seasons as the offensive line. Only left tackle Michael Roos remains among the starters from 2012. The influx of new talent includes Taylor Lewan, left guard Andy Levitre (2013 free agent from the Buffalo Bills), right tackle Michael Oher (2014 free agent from the Baltimore Ravens), center Brian Schwenke (2013 fourth-round pick) and right guard Chance Warmack (2013 first round pick).
But it is quarterback where the watchful eyes of fans are likely to focus throughout training camp and preseason. Jake Locker, a first-round pick in 2011 (eighth overall), hopes to continue on the trajectory he took before injuries derailed a quick start in 2013.
Playing without a turnover for the first four games, Locker helped the Titans build a 3-1 record. However, he was knocked out of the fourth game early when he injured a knee and hip on the same play.
Locker surprisingly returned to action less than a month later. But in a devastating twist, he was sidelined once again in the ninth game. This time, it was for the duration of the season after he was diagnosed with a Lisfranc foot injury and underwent surgery to repair it.
Locker appeared in seven total games in his 2013, completing 111 of 183 passes for 1,256 yards, eight touchdowns, four interceptions and a passer rating of 86.7. At the time of his season-ending injury, he ranked fourth in the NFL in third-down passer rating (103.7) and eighth in the league in fourth-quarter passer rating (105.9).