Topic: Spirituality
Hello, friends! My name is Jenni Lee Shelton, and I may not be what you're expecting.
You may drop your expectations here. If for whatever reasons you feel uncomfortable leaving your expectations unattended, then I encourage you to also expect miracles (shout outs to Gabrielle Bernstein and Joe Vitale.)
I am new at blogging, and newness is something I don't think we should fear. I also have a new career as a life coach that is really inspiring me to dive deeper into my passions. Please feel free to embrace my process alongside me, as I reveal more about who I am and what I'm all about.
Ok… so exactly why are you starting this blog, and why am I reading it? «Read the rest of this article»
Clarksville, TN – In the summer of 2010 I became the Lead Pastor of a church that was struggling to stay alive. The church had been beaten down by rocks of "drama", weeds of bad theology, and was full of the type of toxicity that would render most soil unfit for planting.
That church was Xtreme Christian Fellowship a.k.a Xtreme Ministries. Over the last 27 months God by His Spirit has used His people to remove the rocks, pull up the weeds, and prepare the soil. This type of work is not taught in seminary and one cannot find a book at the latest conference that reveals the "shortcuts" to cleaning up the mess that was Xtreme. «Read the rest of this article»
Last year I learned a lot about myself and about life in general. To the surprise of most, those lessons were not learned at church or in school. I learned them while practicing Brazilian Jiu Jitsu! The biggest lesson I learned is that when it comes to difficult situations, posture is everything.
Allow me to explain.
In Brazilian Jiu-Jitsu, good posture is everything.  The name of the game is breaking your opponents base.  If you can get the other guy off balance, you will almost always be in a position to finish. I know this because as a white belt, I am usually the guy who is off balance!  I have been submitted by guys who are 60 pound lighter than I am simply because of their good posture and technique and my poor posture.  My natural tendency is to try to "muscle" out of bad situations. While I am using brute force, the other guy is patiently waiting and conserving energy until I either get tired or lose my base (posture). Posture matters.
The Bible talks about good posture often. «Read the rest of this article»
Let me set the stage a bit… It's just after 6:00am on Wednesday morning, the day after the election, and I'm driving down to Cleveland TN to work on another LASATERS® store with our franchisee. There are more than a few things on my mind (businesses, election results, future, travel schedule, etc.). My mind is going non-stop and my heart is still pumping abnormally fast as I recount the election results of the previous night. I figure, "I've got 3.5 hours to drive – I'll figure it all out on the way, or, at least get a handle on planning, projections, future business plans (now that capitalism is under full attack) and how to manage 3 businesses successfully with a government that is obviously more for themselves than the people."
Just my thoughts. Not exactly a great way to start my day. «Read the rest of this article»
June Cleaver is dead. So is Ward. And Wally. And, the Beaver, too.
Actually, the Cleavers only existed on television from 1957 through 1963. But, they were the real American family.
In some ways, we still believe the Cleavers of Mayfield actually existed. We programmed church to cater to the Cleavers who were consistent, dedicated, followed Dr. Spock, and predictable.
But, that family doesn't exist. Actually, it never did.

«Read the rest of this article»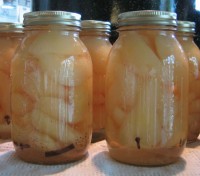 There's a certain something in the air when its cold. Something crisp and sharp. Whatever it is, it sets my mind to thinking about the bakery and farm we left behind some 6 years ago.  I miss the farm and the life we had there. I even miss going out to put wood on the fire that warmed our house. I  miss the orchard. I miss my friend Martha.
It seemed so much colder there than here in the winter, even though we were only 20 miles further to the north than we are now. And I do miss the friends we made while we were there. Surprisingly, the only friends we made were Amish people. They seemed to think we fit right in the community. I don't really know why. We don't dress like them, talk like them or think like them. That leaves me to think that we connected on a spiritual level, something deeper than clothing or hair; a faith connection that centered around Jesus Christ that not one of us really understood or could account for, but knew that it was there. «Read the rest of this article»
Football ignites the headlines already. The season starts well before baseball season is over – it's already a headline catcher.  Football coaches at every level of the sport, whether high school or professional, are being reminded that there is a restriction on religious activities that coaches can promote with the team. The Supreme Court stated that a "school district has a constitutional right to protect students from religious coercion…" «Read the rest of this article»
A few words directed to a friend, neighbor or family member or even an adored pet, can release a resevoir of strength within . Normally, these are words of appreciation and acknoledgement.
At Fort Leonard Wood, the Army's largest basic and advanced training post, I served with command leaders to include hundreds of drill sergeants of all ranks. I served, too, commanders that I would have followed into combat at any time and any place. How did these men and women impress me and receive my loyalty? They were leaders trained in reassuring and encouraging others. They elicited a sense of self with new recruits, NCOs and officers with a reassuring word. «Read the rest of this article»
Humor in Uniform is a favorite section in the Reader's Digest.  Having served as a soldier and Army Chaplain, for 20 years, in time of peac and for two years of war in Vietnam, I appreciate recognition given our soldiers, even if its humorous.Being rather serious and solemn by nature, I have a psychological need for entertainment, especially humor.  I meet this need for balance for jocularity by selecting cheerful TV programs to watch while exercising at the Athletic Club. When I get there early enough, I'll watch my all time favorite, M.A.S.H. «Read the rest of this article»
Only a few more weeks and our trees will be budding with new leaves for the year 2009. It is fascinating to watch their transformation in the spring. This budding will be swiftly followed with out brilliantly colored songbirds building their nests among the newly sprung to life branches of the trees. The trees closest to the house will be occupied first, trees that enhance our lawns and the countryside.
In building our house six years ago, we had regular contractors for the project. We went the mile and invested thousands of dollars in the lawn and yard. We hired Tim, a professional landscaper, to plant shrubbery, sod and trees.
For us an appealing and robust lawn was a priority for the property. In childhood, I recall climbing, scaling the robust trees that grew on grandpa's farm in the Ozarks of Missouri. I recall too climbing the persimmon tree to retrieve the ripened fruit for a snack. My cousin Leroy example emboldened me to climb to the highest branches. «Read the rest of this article»