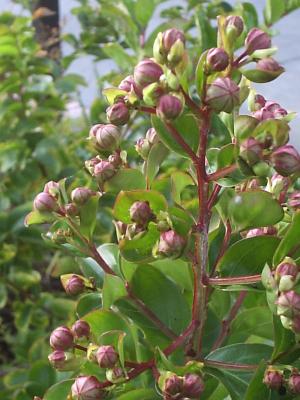 Only a few more weeks and our trees will be budding with new leaves for the year 2009. It is fascinating to watch their transformation in the spring. This budding will be swiftly followed with out brilliantly colored songbirds building their nests among the newly sprung to life branches of the trees. The trees closest to the house will be occupied first, trees that enhance our lawns and the countryside.
In building our house six years ago, we had regular contractors for the project. We went the mile and invested thousands of dollars in the lawn and yard. We hired Tim, a professional landscaper, to plant shrubbery, sod and trees.
For us an appealing and robust lawn was a priority for the property. In childhood, I recall climbing, scaling the robust trees that grew on grandpa's farm in the Ozarks of Missouri. I recall too climbing the persimmon tree to retrieve the ripened fruit for a snack. My cousin Leroy example emboldened me to climb to the highest branches.
Now, after six years of growth, by our own selection of trees, we congratulate ourselves  for investing and improving our property. Our trees include the ever beautiful cherry trees, river birches, maple and crepe myrtle. I am already anticipating with joy the pink blossoms of the cherry trees. These wondrous trees that we have planted are one of the joys of life. They add monetary value to our property, but also brighten our lives. They are a source of considerable psychological benefit.
Our wondrous trees provide us spiritual encouragements. From observing them year-round we can find a source of spiritual nourishment. In The Upper Room, a devotional by Teresa describes how she was blessed spiritually by a tree. Here is the narrative:
The Weight of Bitterness
Read Ephesians 4:25-5:2
"See to it that no fails to obtain the grace of God; that no root of  bitterness springs up and causes trouble, and through it may become defiled." ~~ Hebrews 12:15 (NRSV)
Twenty years ago the pine tree in our front yard was a tiny sapling that needed a ring of bricks to protect it from being trodden underfoot. Now it shades our house. During a recent winter storm, however, its lower branches swept the ground under the weight of ice and snow.
That weighted tree was a picture of the Christian I used to be. For years I allowed the weight of abuse when I was a child and the death of my mother when I was in high school to sap my strength and keep me from growing in faith. I allowed anger and resentment to grow into bitterness. Instead of raising my face up in praise to God who uses our trials for good, I doubted my heavenly father's goodness.
When the sun finally melted the ice and snow,  our pine tree stood just as tall and mighty as before the storm.  Unlike a tree, we can choose how we will respond to painful circumstances. We can choose to live under the weight of bitterness, or we can allow God's love to melt away the ice so we can stand tall. Bitterness can rob us of knowledge of God's presence. Remaining open to Good and trusting God's never-ending love bring great strength and deep joy.
Her prayer, inspired by the pine tree, reads:
Prayer: Heavenly Father, free us from any bitterness that remains in our heart. Amen.
Her thought, also inspired by the pine tree, reads:
God offers us relief from the weight of bitterness.
~~ Teresa Dickhoner, Ohio
The trees will be bursting forth with new life soon. As you watch them excel in their development, think and meditate on their spiritual significance.
The Upper Room devotional is available at Local United Methodist Churches.