Topic: United Methodist Church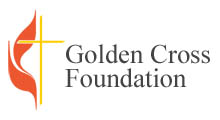 Nashville, TN – While much of the state has shut down during the Coronavirus (COVID-19) pandemic, Middle Tennessee United Methodist churches are actively responding to the needs of the most vulnerable population — older adults.
"Today, it is more critical than ever that we continue our advocacy work as church leaders in older adult ministry while ensuring that vital needs of older adults are being met in financial assistance, food and meals security, transportation, and spiritual well-being," said Dr. Richard H. Gentzler, Jr., director, ENCORE Ministry of the Tennessee Conference of The United Methodist Church.
«Read the rest of this article»

Clarksville, TN – The Cumberland Bank & Trust Winter Baroque concert will be presented by The Gateway Chamber Orchestra at the Madison Street United Methodist Church, December 6th, 2015 at 3:00pm.
Gateway Chamber Orchestra's holiday concert tradition features Charpentier's inspirational Mass based on traditional French Christmas carols (Noels).
«Read the rest of this article»
Remembering the past, Honoring the present
Dover, TN – I love small town festivals they have a certain je ne sais quois, a charm, an innocence that you just don't find in festivals held in larger towns. Don't get me wrong I love Clarksville's Rivers and Spires Festival, and adore Riverfest. But Dover's Eagle Fest was a lot of fun too. The festival is held Memorial Day weekend and the events continued non-stop.
The festival opened with your typical parade. However it wasn't overrun with rampant commercialism. Another charming aspect was that the children along the route were simply showered with candy; the various Beauty Queens were tossing it out by the handful. The Grand Marshal was a veteran A.J. Dalton.
«Read the rest of this article»
FORT CAMPBELL – Soldiers of the 2nd Battalion, 327th Infantry Regiment, 1st Brigade Combat Team, 101st Airborne Division are going to take part in a Help for the Homeless Project in Nashville, TN, Dec 11.
Soldiers from 2nd Battalion will work with United Methodist Church and Mannacafe Ministries on the project. Together they will prepare and pass out food to the homeless.
The Soldiers hope to use this event as a way to provide charity to the homeless as well as a time to bond with each other.
Only a few more weeks and our trees will be budding with new leaves for the year 2009. It is fascinating to watch their transformation in the spring. This budding will be swiftly followed with out brilliantly colored songbirds building their nests among the newly sprung to life branches of the trees. The trees closest to the house will be occupied first, trees that enhance our lawns and the countryside.
In building our house six years ago, we had regular contractors for the project. We went the mile and invested thousands of dollars in the lawn and yard. We hired Tim, a professional landscaper, to plant shrubbery, sod and trees.
For us an appealing and robust lawn was a priority for the property. In childhood, I recall climbing, scaling the robust trees that grew on grandpa's farm in the Ozarks of Missouri. I recall too climbing the persimmon tree to retrieve the ripened fruit for a snack. My cousin Leroy example emboldened me to climb to the highest branches. «Read the rest of this article»
In the United Methodist parishes I served near Fort Leonard Hood, Missouri, we had congregations of good people where the majority were over 65 years of age.

I still cherish and remember fondly these dedicated people. They included Luther and Beth, retired medical doctors from South Africa; and  Mary, the 30-year church treasurer and retired school teacher who chose to remain single but assisted nieces and nephews with college expenses. They include Ida, who lived in HUD housing and at the age of 80 passed on. She was a source of sunshine though "as poor as Job's turkey." Upon her demise, she deeded to the church her one source of passing the time: a record player and a set of 78 rpm records. «Read the rest of this article»
Financially these are tumultuous days for our country, the world, and us, the residents of Clarksville. Throughout the the globe the past six months are conspicuous and striking by the burgeoning financial foreboding. Daily new on the monetary condition of the globe is tortuous. Car manufacturers recently reported that June was a "disastrous" month for sales. We wait with bated breath for this plight to hit bottom; instead more bad news is announced.
A recent USA Today headline proclaimed "Rising prices hammer seniors on fixed income." Food and medication goes out of reach for some. These are troublesome times, too, for parents, single or married, for grandparents and all adults. «Read the rest of this article»
In an  issue of Newsweek arrives on Tuesday or Wednesday, I peruse the contents and give priority to articles and stories that appeal to me at the moment. After that, I read it from cover to cover, starting at page 1. Recently the story No Buddha Required captured my attention and lead the competition as to what i would read first.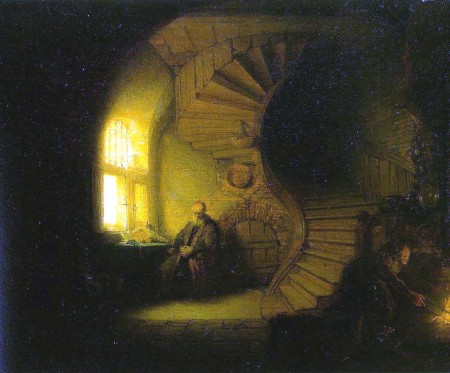 Rembrandt's "Philosopher in Meditation"
No Buddha Required is by no means a critical, derogatory or fault-finding expose of Buddhism. Being the international city Clarksville is, there are believers in this world religion among us. I know several practicing Buddhists, productive citizens who have a depth of compassion. Their teachings are respectful of all God's creatures. «Read the rest of this article»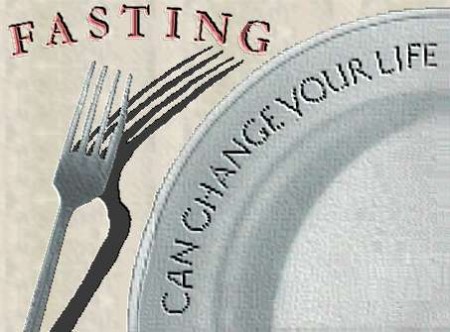 Fasting is a ritual practice common to the major religions of the world. In the Christian faith, we hear more about the custom during the holy season of Lent, when we practice self-sacrifice to regain a renewed spiritual perspective for daily living.
fasting is a sacrifice where a person voluntarily abstains from consuming food or drinking liquids. I grew up in an evangelical church environment that suggested and encouraged regular fasting as a means of spiritual growth.
As a teenager in St. Louis, I accepted the challenge of abstaining from one meal a week, a challenge for a 16-year-old boy with a typical appetite. For me, I purposely opted to abstain from the Friday school lunch. To heighten my appreciation for this weekly event, I retreated to a quiet place in the high school for an hour of meditation and reflection. This discipline became a spiritual growth hormone for me. This sacrifice aided my efforts to a good teen and to say no to the temptations of being a junior in high school. «Read the rest of this article»
The Episcopal Church offers spiritual nurturing through a liturgical form of worship and religious instruction. In Clarksville, two of our spiritual giants and treasures are Trinity and Grace Episcopal, one in downtown Clarksville and the other in the country. Our community is enriched by their presence and their proclamation of the Good News.
While on active duty, I had the delight of serving with chaplains of the Episcopal faith. I'll always remember the support of Don, Bob and Jim, who so devotedly represented their Lord and demonstrated God's grace as chaplains endorsed by the Episcopal Church. «Read the rest of this article»