Clarksville, TN – The Cumberland Bank & Trust Winter Baroque concert will be presented by The Gateway Chamber Orchestra at the Madison Street United Methodist Church, December 6th, 2015 at 3:00pm.
Gateway Chamber Orchestra's holiday concert tradition features Charpentier's inspirational Mass based on traditional French Christmas carols (Noels).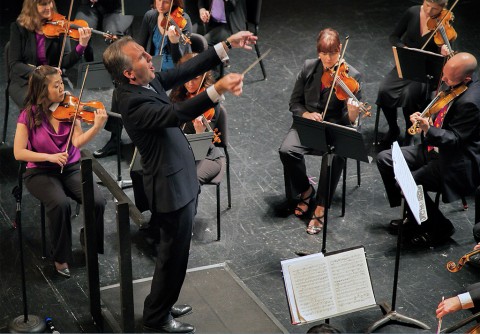 The program features flute soloist Lisa Wolynec in a classic work by Baroque titan J.S. Bach, along with beloved music by Vivaldi. These works set the stage for the annual sing-a-long which concludes this festive program.
GCO Music Director Gregory Wolynec says, "This is our most popular concert every season. People in Clarksville mark the beginning of the holiday season with our mix of sacred and classical music on the first Sunday in December. Come join us and replenish your soul with some truly glorious music."
Winter Baroque Concert Tickets
Adult: $15.00 ? Active Military/Student: $10.00 ? Season Subscribers $10.00 ? Family*: $40.00
*A Family is 2 adults and unlimited children.
Concert Information
Sunday, December 6th, at 3:00pm
Madison Street United Methodist Church
319 Madison Street, Clarksville, TN 37041
Douglas Rose and Gregory Wolynec, conductors
VIVALDI   Concerto for Strings in G Minor, RV 156
J.S. BACH   Orchestral Suite No. 2
CHARPENTIER  'Midnight' Mass
Tickets are available ONLINE, by phone at 931.444.6240 or on location 1 ½ hours before the concert.
Visit www.gatewaychamberorchestra.com for information.
About The Gateway Chamber Orchestra
The Gateway Chamber Orchestra, conducted by Gregory Wolynec, was formed in 2008 and is recognized as one of the leading new American ensembles. Comprised of professional musicians from Middle Tennessee and beyond, the GCO specializes in presenting traditional masterworks, overlooked treasures, and contemporary American compositions. The GCO's recordings have received critical acclaim in publications such as the American Record Guide and Fanfare Magazine.
Engaging 5,000 Middle Tennessee students annually with classical music through free performances, innovative educational outreach, and interactive Children's Concerts, the GCO is committed to building new audiences for tomorrow.
Visit gatewaychamberorchestra.com to learn more.