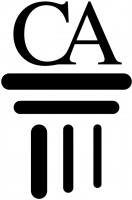 Clarksville, TN – On Tuesday, November 6th, Clarksville Academy's 3rd Grade will host it's first Presidential Election. Located in the main hallway of CA, all students Pre-K through 5th grade will visit the voting booth and present their official CA Voter's Registration card.

After signing in, they will be escorted to the booth to make their official selections in the Presidential race. Ballots are cast online and students can make their selection based on the candidates' photo and name.  (This is done for our smallest students who cannot yet read.)

Grades 6-12 will vote via their iPad or MacBook during their English class time. After voting the students will receive an official "I voted" sticker! At the end of the day the results will be tallied, by grade level and as an overall school.

The 3rd Grade class at CA has been diligently working on and learning about the election process and our past presidents. Each class member researched one of our Presidents, wrote a research project on that President and also created a unique one of a kind bust of the President out of a….pumpkin! These are on display outside the voting booth. Students can also browse the wall of learning which will have information on each candidate, general information on being president, etc.



Sections
Education
Topics
Clarksville Academy, Clarksville TN, election day, iPad, MacBook