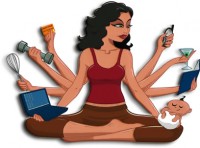 Clarksville, TN – Does the picture to the left look familiar? As wives, mothers, sisters, neighbors and friends,   doesn't the juggling of responsibilities sometimes seem endless, whether working inside or outside the home most of our days revolve around taking care of our children, families and loved ones.
As women, we like to believe we are Superheroes who put on our capes and fly around saving the world, and that no job is too tough for us to handle.
However the reality is that life itself can often become overwhelming and sometimes all we need is that extra support and someone who we can really count on.
I can remember a time in my life when my daily schedule looked somewhat like this:
6:00am-Wake up, Have coffee ( preferably LOTS of it), pack lunches and make something that was  hopefully  edible for breakfast 6:30am-ish: Wake the kids up and deal with at least 15 minutes of protesting.
7:15am: Drop the kids off at Preschool, Daycare, etc.
7:30am-4:30pm: Talk, Talk and Talk some more. Whether it is with customers, coworkers, advertisers, etc. There were some days when I wondered if a daily word limit existed and if so I am pretty sure I ALWAYS exceeded it.
5:00p: Hit the gym for some " stress relief time" usually unwillingly.
6:00pm:Cook Dinner ( ok not EVERY single night but give a girl an A for effort).
7:00pm-ish: Play with bath time Dora and bubble blowing Lightening McQueen until even Chinese Water Torture seemed like a more desirable option. Whenever bath time was finally over: Read Llama Llama mad at Mama, Red Pajama and Misses Mama 5 times a piece in that EXACT order. Until I could barely keep my eyes open:
Clean Dishes,
Do laundry and homework,
Check Emails,
and the highlight of my day: Pinning recipes
I would most likely never make and rainy day crafts that seemed way too messy and complicated especially for my bunch!
At Harris One Hour, we completely understand and can relate to your busy lifestyle. We are also wives, mothers and friends who rely on convenience and dependability in order to keep our sanity and get us through the day! Being the caretakers of the home, the last thing we need is the inconvenience and added expense of a broken down air conditioner in the summer or furnace in the winter.
As home comfort specialists we make it our #1 priority to keep you and your family comfortable and happy no matter how extreme the temperatures may become. We offer uniquely designed products and services that will keep your HVAC system running smoothly and efficiently and give you the peace of mind you most definitely deserve!
When you need us give us a call.  As a company that is family owned and operated, being able to offer "on time" and "100% satisfaction" guarantees (just to name a few) are extremely important to us. It is our mission to provide quality service for you and the entire Clarksville community for many years to come.
Megan Harris Vargas.  Customer Service/Marketing Manager, Harris One-Hour Heating and Air Conditioning
Wife and mother to the "best kids in the world."