Suicide rates among Army personnel have hit a 26-year high, according to a new report just released by the U.S. Army.
"It's not surprising," said Clarksville Therapist Polly Coe as she heard details of the report stating that suicide rates among Army personnel have hit their highest rate in 26 years, with 25% of those self-inflicted deaths occurring in the Afghanistan and Iraq arenas. Iraq led the numbers with the most reported suicides and suicide attempts, according to a report released by the U.S. Army.
I've been hearing about it," Coe said, while voicing a bit optimism that the Army is acknowledging the program and bolstering its metal health treatment efforts for troops worldwide. "They (Army) have to got to face this. Many of these soldiers are facing overwhelming depression and desperately need treatment." Mental health issues among troops have reached "disastrous" proportions, Coe said, noting that suicides have been occurring not just among enlisted troops but officers as well.
Army officials report 99 confirmed suicides by active duty troops in 2006, significantly higher than the 11 suicides recorded in 2005. The suicide rate is approximately 17.3 per 100,000 troops, up from the previous average of 12.3/100,000. The United States currently has 500,000 troops in active service.
Medical records of these soldiers indicated that at least one-quarter of them had at least one psychiatric disorder, with 20 percent affected by mood disorders, or diagnoses of bipolar disorder and/or depression, anxiety, and post traumatic stress disorder. The latter is the hallmark mental health issue of the Iraq conflict.
According to Polly Coe, a local therapist and one of many providers of mental health services for the Fort Campbell area troops, prolonged deployments, "especially these second and third deployments," contribute to "family problems" including spouse and child abuse, financial problems, sex addiction, depression, job stress, and divorce."
Coe is concerned that this third deployment of Fort Campbell troops, who will now serve 15 months instead of twelve overseas in war zones, will result in a sharp increase of psychiatric, psychological and behavioral disorders among enlisted personnel while overseas and when they finally return home.
"They are angry, and that can fuel or be fueled by depression," Coe said, adding soldiers often dehumanize themselves in battle zones. "It's a coping mechanism," she said. "They begin to not show emotion, become like robots who don't feel anything." It's their way of shunting aside pain and rage. But they can't always turn that off when they come home. They isolate, or they explode, she said.
Coe joins the ranks of other therapists in also voicing concerns about the "dumbing down" of background checks and standards of new recruits in an effort to bolster recruitment numbers, in particular the much reported disregard of some mental health and medication issues which would under other circumstances have kept some military applicants out of the service.
"It's disastrous," she said, adding that some of these recruits are already having mental health problems or have been taking medication for such problems. The (structure and training) of the Army will acerbate that, she said. "It's predictable."
Coe was pleased that the Army is stepping up and acknowledging publicly that there is an increase in suicide, and increased efforts to address the mental health needs of troops both deployed and at home bases. "It's a start."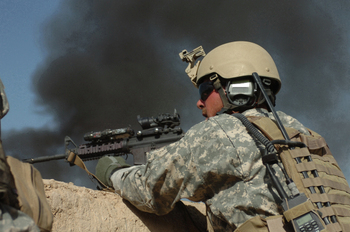 Army officials admitted to a "significant" relationship between suicides and suicide attempts and the length of deployment in Iraq, Afghanistan and bases in the region where troops are involved in the war effort. The conceded that there was "limited evidence" of a correlation between multiple deployments and suicide. Although preliminary numbers for 2007 currently show a decline among armed forces as a whole, there is an increase of suicide among deployed troops. Twice as many servicewomen deployed to war zones committed suicide compared to those stateside or in non-combat areas. Firearms were the method of choice among most suicides, while those who attempted to end their lives but failed more often when attempting to overdose or cut themselves.
In the wake of both public opinion and a demonstrated need for services by troops and their families, the Army has attempted to create a larger number of programs and expand mental health services to alleviate the stress created by a seemingly endless war, a battle now entering its sixth year.
In prior interviews with Clarksville Online, Coe said that therapists across the region are having a hard time keeping up with the numbers of troops and their families who need help coping with both deployments and the return of their loved ones.
The full report on suicide in Army ranks will be released Thursday.