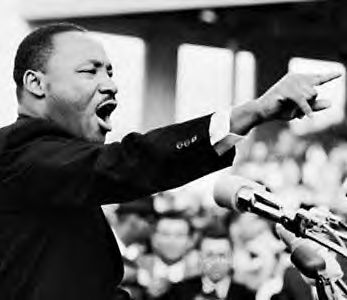 The Clarksville Branch of the NAACP #5582 will host its annual Rev. Martin Luther King Jr. commemorative celebration starting with a Sunday January 20th worship service, which will be held 5:00 pm, at Greater Missionary Baptist Church.
The guest speaker will be Chaplain Alvin Miller, Pastor of the South Chapel located on the Fort Campbell, KY military base. Both churches' choirs will be combined for this occasion in order to perform the music for the service. Refreshments will be served.
On Monday January 21st from 9am-noon will feature a poster contest, educational classes, and informative seminars for all ages, starting at 9am at Burt Elementary School located in downtown Clarksville. These programs are sponsored by local sororities and other civic organizations.
The annual Martin Luther King Jr. Day commemorative march through the city will leave Burt School around noon.
The NAACP extends an open invitation to everyone regardless of their ethnicity to participate in these events.

The mission of the NAACP is to ensure the political, educational, social and economic equality of rights of all persons and eliminate racial hatred and racial discrimination. For questions or more information please call Elder Frank E. Washington at (931) 980-1918.