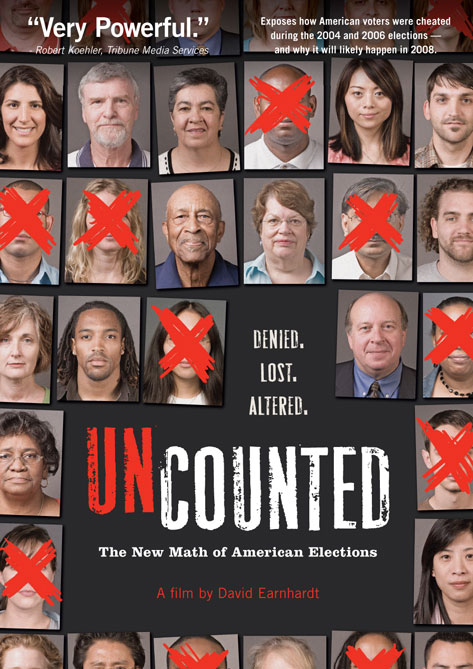 UNCOUNTED is a wakeup call to all Americans. Beyond increasing public awareness, the film inspires greater citizen involvement in fixing a broken electoral system. As we approach the decisive election of 2008, UNCOUNTED will change how you feel about the way votes are counted in America.
The Clarksville Public Library will be the setting for a free screening of the film UNCOUNTED on Saturday, February 2, at 3 p.m. in the large conference room. UNCOUNTED was produced and directed by Nashville's own David Earnhardt, and made its world premiere in that city last November to a standing room only crowd.
[youtube]h1BEdMSs-ro[/youtube]
UNCOUNTED is an explosive documentary that shows how the election fraud that changed the outcome of the 2004 election led to even greater fraud in 2006 – and now looms as an unbridled threat to the outcome of the 2008 election.
"The notion of stolen elections is something we assign to Third World countries but not this beacon of freedom and democracy that we like to view ourselves as." ~Bernie Ellis, Election integrity activist
Three million votes lost nationwide, these are just a sampling of the issues that unfold in Earnhardt's stunning documentary UNCOUNTED:
Exit Poll Discrepancies in 2004
"Nearly all the experts are in agreement that the exit polls could not have been so far off that they gave such distorted results. It's far more rational that the voting process was compromised." ~Rep. John Conyers, Chair, House Judiciary Committee
"Jim Crow" Voter Suppression in the 21st Century
"The targeting of people of color is very political and very computerized."~Harvey Wasserman, journalist & author
Undervoting
"When you see 42%, 70% and 80% undervotes in a precinct in this election, you know that's not real. There's something desperately not right."~Marybeth Kuznik, Pennsylvania poll worker Electronic Voting
"With all these [electronic] machines, you can alter the outcome of a national election in a way that is just unprecedented in terms of its reach and the power to really play around."~Andrew Gumbel, Journalist & author, "Steal This Vote"
This event is sponsored by Amanda Whitley, as a "concerned citizen", with assistance from Clarksville Online volunteers.