Topic: Voting Machines
Mayoral Runoffs
Clarksville, TN – In the April 5th meeting of the Charter Committee a recommendation was made concerning the need for a runoff election for the office of mayor.  Both McMillan and Burkhart had supported the need for a runoff during their election efforts.  I have been on record as supporting a runoff also.  If you refer to the minutes of the April meeting, you will see the committee looked at five different options.  We had invited Vicki Koelman from the Election Commission to help us sort out the pros and cons of different options.
The committee, based on the information of issues and problems, decided on an approach that combined two of the options together.  This option would have the mayoral election set for August and a runoff set for November.  In addition, to avoid the confusion of running both the county and city mayoral elections at the same time in the same year, the city mayor's race would be placed out of sync with the county by two years. «Read the rest of this article»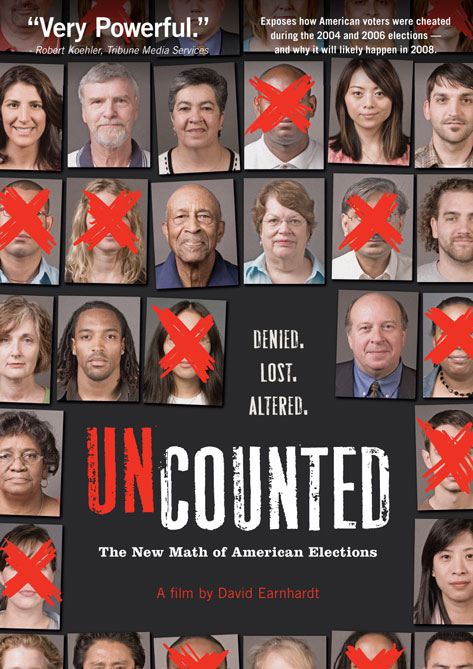 NASHVILLE, TN: For the last seven months, documentary filmmaker David Earnhardt has taken UNCOUNTED: The New Math of American Elections to more than 30 cities. During that time, he used the film as a grassroots tool to shed some much-needed light on the systemic problems inherent in our elections — including voting machines that render every vote unverifiable and un-auditable and Jim Crow-like intimidation tactics. The screenings have drawn thousands, awakening in viewers an urgent need to help fix our electoral system.
Now with a critical presidential election looming, UNCOUNTED will take the leap from grassroots organizing tool to mainstream wake-up call with a timely convergence of events that will expose its message to wider audience.
First, premium movie service provider Starz will present the world television premiere of UNCOUNTED on Starz Edge, Monday, August 25 at 10:30 p.m. (et/pt), and Starz Cinema on Thursday, August 28 at 10:00 P.M.
"As this is one of the most important elections in our nation's history, premiering this thought-provoking documentary is not only timely, but necessary viewing."
— Nancy Silverstone, Vice President of Program Acquisitions at Starz Entertainment.
Next, the distribution company, Disinformation, will release the documentary to retail outlets, including Amazon.com and Netflix, on Tuesday, August 26. «Read the rest of this article»
Now, more than perhaps ever before, your voice will mean something for Tennessee. If you speak up in the next week, your voice will be amplified by the growing call to our legislature to move the TN Voter Confidence Act forward now. At this moment, this call from voters across Tennessee and across the nation is strongly bipartisan, broad-based and basic in its request: Let our votes count in Tennessee in '08. What follows shortly is an email action alert that is being sent to our core election integrity supporters here in Tennessee. Some of you are among that group, but many more of you are not. That is why I am writing to all of you myself, one last time.
Please take 30 minutes to voice your support to replace our non-verifiable touch-screen voting machines in Tennessee with paper ballot-based voting systems in time for the November election. To help you do that, I am sending you the latest call to action from Gathering To Save Our Democracy (www.votesafetn.org), and I am appending on that action call a few more steps you can take if you believe as strongly as I do that free, fair and verifiable elections matter in this country. «Read the rest of this article»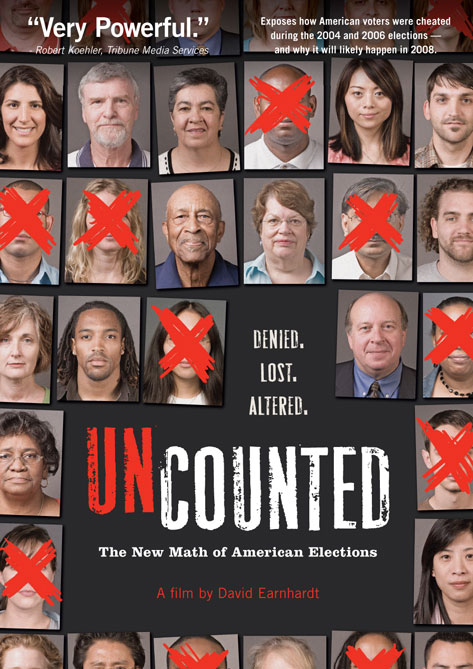 UNCOUNTED is a wakeup call to all Americans. Beyond increasing public awareness, the film inspires greater citizen involvement in fixing a broken electoral system. As we approach the decisive election of 2008, UNCOUNTED will change how you feel about the way votes are counted in America.
The Clarksville Public Library will be the setting for a free screening of the film UNCOUNTED on Saturday, February 2, at 3 p.m. in the large conference room. UNCOUNTED was produced and directed by Nashville's own David Earnhardt, and made its world premiere in that city last November to a standing room only crowd.
https://www.youtube.com/watch?v=h1BEdMSs-ro
«Read the rest of this article»
In the wake of 2000 election issues, Congress passed the Help America Vote Act (HAVA) in 2002. HAVA was intended to address the problems of accuracy and functionality such as "hanging chads"– of the voting systems then in use. HAVA's mandate also included ensuring that all voters with disabilities have access to voting systems that would provide private and independent voting.
These changes were required in every state for the 2006 federal election. Millions of tax dollars were allocated and dispersed to the states to upgrade and buy new equipment that would incorporate these requirements. «Read the rest of this article»
Business as usual will not be the norm over the next 48 hours as Secretaries of State in all fifty states will each receive subpoenas in the National Clean Election lawsuit, according to an announcement made Monday night by activist Bernie Ellis at the Belcourt Theatre in Nashville. There is still time, Ellis said, to require a paper trail for the 2008 election.

The announcement was made in a panel discussion following the sold out Nashville premiere of the David Earnhardt film, Uncounted [The Movie], which ended with a standing ovation for its writer/director. The documentary film addressed the issue of voting machine error/failure, the need for a paper trail of votes, the political and business ties between government officials and manufacturers of these DRE (Direct Recording Electronic) voting machines, and the ease of tampering with such machines and "flipping" votes that are electronically counted.
"I cannot think of anything more important than to save the core of our democracy — the vote! — David Earnhardt
«Read the rest of this article»
CO Author Debbie Boen, founder of FreeThinkers for Peace and Civil Liberties in Clarksville, comments on Rep. Blackburn's August newsletter

Representative Marsha Blackburn (R-TN) says in her August newsletter that "the liberal majority of Congress will not deliver these promised goals: curb government spending, secure our nation's borders, and institute the most ethical Congress in U.S. history."
Congresswoman Blackburn is right to blow the whistle on these urgent matters!
We desperately need to curb government spending.  Our government charges the taxpaying citizens of the United States a daily fee of $200 million dollars to support the invasion and occupation of Iraq, while corporations such as Halliburton are getting rich off both the war, oil production and the average American.
We need to secure our nation's borders!  It's not just a matter of illegal immigration, or the threat that can sail through porous ports and land in our airports nationwide.

We need to stop corporations from outsourcing their work to sweat shops in other countries. Wal-Mart alone is putting all of its potential competitors and smaller local companies out of business by offering the lowest prices while paying its employees poverty level wages with no benefits.
We need to elect and install the most ethical Congress in U.S. history.  All those elected and appointed folks who do not follow, uphold and defend the Constitution of the United States of America need to go. It's our job to vote them out of office. «Read the rest of this article»

Please see the Election 2006 page for complete election results!
I am currently investigating reports of issues retreiving the votes from the Microvote Infnity machines used for early voting, which once again raises the question: Can we trust paperless voting using electronic machines, and highlighting the need for these machines to produce a voter verified paper audit trail!
Ask yourself this. What happens at the end of the day, if they try to download votes from a heavily used voting machine, and find nothing there? While I hope this is a nightmare that we never have to face, they will not be able to say we were not warned!  Updated below: «Read the rest of this article»

We all know that computers some times have a mind of their own, they are subject to programming errors, software bugs, hackers, viruses, and even random unexplained glitches. You may not have thought about them in this way, but electronic voting machines are also computers. Can we really trust them? «Read the rest of this article»