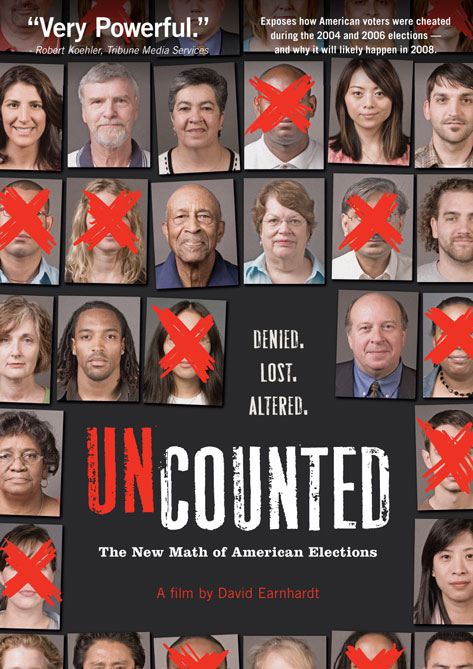 NASHVILLE, TN: For the last seven months, documentary filmmaker David Earnhardt has taken UNCOUNTED: The New Math of American Elections to more than 30 cities. During that time, he used the film as a grassroots tool to shed some much-needed light on the systemic problems inherent in our elections — including voting machines that render every vote unverifiable and un-auditable and Jim Crow-like intimidation tactics. The screenings have drawn thousands, awakening in viewers an urgent need to help fix our electoral system.
Now with a critical presidential election looming, UNCOUNTED will take the leap from grassroots organizing tool to mainstream wake-up call with a timely convergence of events that will expose its message to wider audience.
First, premium movie service provider Starz will present the world television premiere of UNCOUNTED on Starz Edge, Monday, August 25 at 10:30 p.m. (et/pt), and Starz Cinema on Thursday, August 28 at 10:00 P.M.
"As this is one of the most important elections in our nation's history, premiering this thought-provoking documentary is not only timely, but necessary viewing."
— Nancy Silverstone, Vice President of Program Acquisitions at Starz Entertainment.
Next, the distribution company, Disinformation, will release the documentary to retail outlets, including Amazon.com and Netflix, on Tuesday, August 26.
[youtube]bKa8J_2pUGI[/youtube]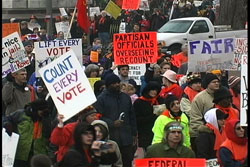 "Disinformation has become known as the home of the political documentary and we've screened many films about voting but didn't find any that were compelling enough to attract and influence a wide audience. UNCOUNTED totally changed my perception of how effective a film about our dysfunctional election system could be. Our goal is to expose UNCOUNTED to as many Americans as possible before the presidential election so that the people can demand – and get – fair and honest elections."
— Gary Baddeley, CEO of The Disinformation Company
UNCOUNTED also travels to the epicenter of the country's political activity to screen at the prestigious American Film Institute Silver Theatre and Cultural Center in Silver Spring, Maryland, on Tuesday, September 9, at 7:00 PM. The AFI screening will feature a post-film panel discussion moderated by veteran broadcast journalist Bob Edwards, host of XMPR Satellite Radio's "The Bob Edwards Show." Panel members will include, Mimi Kennedy, Board Chair for Progressive Democrats of America, Rev. DeForest Soaries, former Chairman of the U.S. Election Assistance Commission, and others.
UNCOUNTED will continue to spread its message until the November election with screenings and panel discussions all over the country, including a stop in Los Angeles, San Diego and Mission Valley. The LA panel discussion will feature Earnhardt, journalist Brad Friedman of BradBlog.com, Diebold-whistleblower Steve Heller, and Heller's lawyer, Blair Berk. The San Diego panel will feature Earnhardt and Friedman.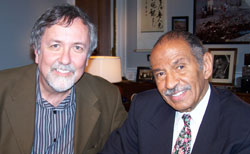 The movie has also made inroads into the international community, selling DVDs through the web site and screening in more than 20 countries. Clarksville Online, the only press to cover the world premiere of UNCOUNTED in Nashville last year, teamed up with the Unitarian Universalist Fellowship in Clarksville to sponsor a screening of UNCOUNTED in December, 2007.
"The response internationally to UNCOUNTED has been better than expected," said Cassie Yde, president, Television Syndication Company, "We've come to find out that other countries are vitally interested in our elections and the election process. UNCOUNTED is a great complement to election programming."
"Our country has a long and varied history of stolen elections, systematic disenfranchisement, and manufactured election irregularities. Yet most of us still accept on faith the integrity of the election process. I hope that watching UNCOUNTED so close to the presidential election will expose our film and this critical issue to a whole new audience, shake to the core preconceived beliefs, and encourage immediate action before it's too late."
–David Earnhardt