Topic: David Earnhardt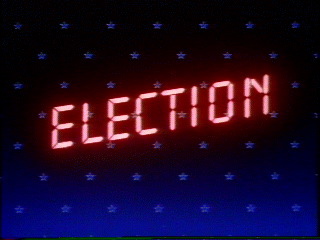 The race is officially on for the Democrats with the nomination of Barack Obama and his chosen running mate, Joe Biden.  The Republican presidential nominee follows in a week.
New election. New candidates.
Same black box voting, same electronic morass masquerading as a true vote in the 2004 presidential election in many parts of the country. In what is a growing nationwide trend, Clarksville will be returning to paper ballets, according to the city's Election Commission, but it won't happen in time for the November 2008 Presidential election. It could have, but apparently the impetus for change, for truth in voting, was not strong enough in Montgomery County or in the state to get this job done pre-November 2008, even though the discussion of this change began in earnest last January. «Read the rest of this article»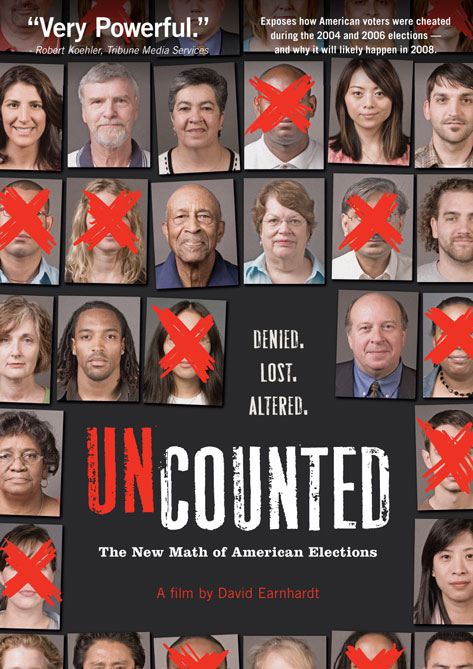 NASHVILLE, TN: For the last seven months, documentary filmmaker David Earnhardt has taken UNCOUNTED: The New Math of American Elections to more than 30 cities. During that time, he used the film as a grassroots tool to shed some much-needed light on the systemic problems inherent in our elections — including voting machines that render every vote unverifiable and un-auditable and Jim Crow-like intimidation tactics. The screenings have drawn thousands, awakening in viewers an urgent need to help fix our electoral system.
Now with a critical presidential election looming, UNCOUNTED will take the leap from grassroots organizing tool to mainstream wake-up call with a timely convergence of events that will expose its message to wider audience.
First, premium movie service provider Starz will present the world television premiere of UNCOUNTED on Starz Edge, Monday, August 25 at 10:30 p.m. (et/pt), and Starz Cinema on Thursday, August 28 at 10:00 P.M.
"As this is one of the most important elections in our nation's history, premiering this thought-provoking documentary is not only timely, but necessary viewing."
— Nancy Silverstone, Vice President of Program Acquisitions at Starz Entertainment.
Next, the distribution company, Disinformation, will release the documentary to retail outlets, including Amazon.com and Netflix, on Tuesday, August 26. «Read the rest of this article»
Congressman Jesse Jackson Jr. cites "UnCounted" in warnings about the fragile state of our electoral system; documentary singled out as important illustration of the problem
NASHVILLE, TN (8.6.08) – In a statement about the fragile state of our electoral system, Congressman Jesse Jackson, Jr., singled out Nashville-based filmmaker David Earnhardt's election integrity documentary, UNCOUNTED: The New Math of American Elections, saying that it offered "warnings about the fragile state of our electoral system" and "evidence of how voting machines themselves can create problems."
UnCounted made its premiere in November, 2007, to a standing room only crowd at Nashville's Belcourt Theater, where Clarksville Online was the only media present to cover the event. Clarksville Online and the Unitarian Universalist Fellowship in December, 2007, teamed up with Uncounted producers David and Patricia Earnhardt to co-sponsor an equally packed screening of this film in Clarksville. «Read the rest of this article»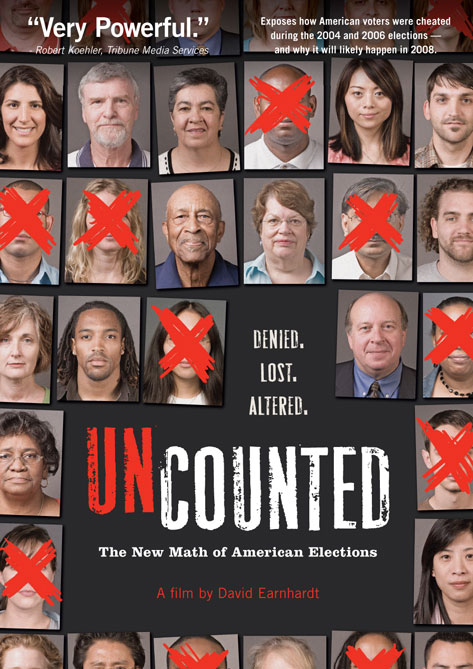 UNCOUNTED is a wakeup call to all Americans. Beyond increasing public awareness, the film inspires greater citizen involvement in fixing a broken electoral system. As we approach the decisive election of 2008, UNCOUNTED will change how you feel about the way votes are counted in America.
The Clarksville Public Library will be the setting for a free screening of the film UNCOUNTED on Saturday, February 2, at 3 p.m. in the large conference room. UNCOUNTED was produced and directed by Nashville's own David Earnhardt, and made its world premiere in that city last November to a standing room only crowd.
https://www.youtube.com/watch?v=h1BEdMSs-ro
«Read the rest of this article»
Yesterday's New York Time's Magazine cover story, "Can You Count on Voting Machines?," offers valuable and in depth coverage of electronic voting machines and the threat they pose to the foundation of our democratic process – our right to vote in free and fair elections.
In Tennessee, 93 out of 95 counties use electronic voting machines with no voter verifiable paper trail. That means there is no way to be completely sure of an accurate tally or recount in the event one is needed.
This Thursday, January 10, the legislature's Voter Confidence Act Legislative Study Committee will meet to discuss the findings of the Tennessee Advisory Commission on Intergovernmental Relations (TACIR) report, "Trust But Verify," which recommends that to improve election integrity in Tennessee we move away from electronic voting machines and replace them with paper-based optical scan machines. «Read the rest of this article»
"A long way from where we started…"
With those words activist Bernie Ellis, a staunch advocate for traceable, verifiable voting records, cited a BRAD BLOG report announcing the publication of a major New York Times article on the issues surrounding electronic voting.
According to The BRAD BLOG, the NYT article includes a graphic of an exploding voting booth and a warning that your vote may be "lost, destroyed, miscounted, wrongly attributed or hacked." The story is reportedly titled "The Bugs in the Machine." The story claims that electronic voting machines may create far greater problems than hanging chads and cites a ten percent failure of electronic voting machines. http://www.bradblog.com «Read the rest of this article»
The Clarksville screening of UnCounted, a film targeting issues in electronic voting, drew fifty people to the Unitarian Universalist Fellowship Friday evening, filling the screening room to capacity for this special event. The film's producer, Patricia Earnhardt, and activist Bernie Ellis, addressed the group and fielded questions about the film and the increasing controversy over the accuracy and security of electronic voting machines.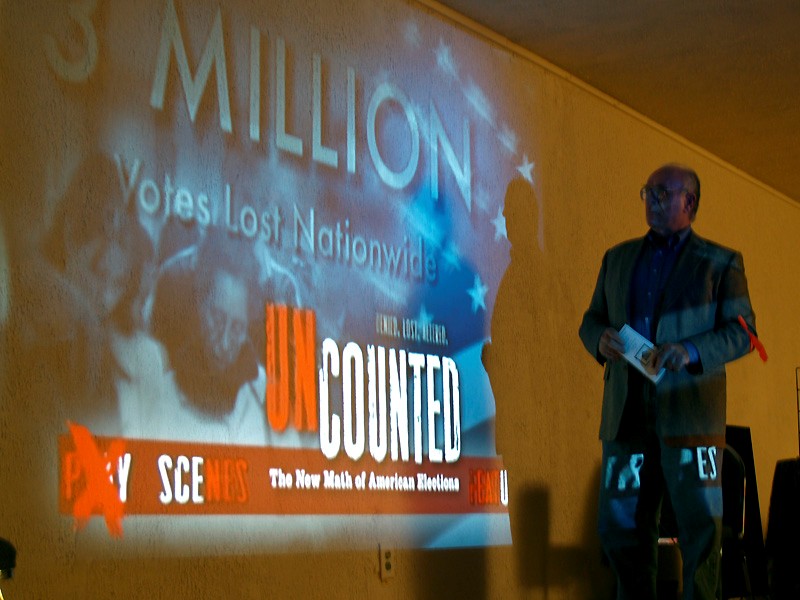 Bernie Ellis introduces "UnCounted"
Producers describe UnCounted as "an explosive documentary that shows how the election fraud that changed the outcome of the 2004 election led to even greater fraud in 2006 — and now looms as an unbridled threat to the outcome of the 2008 election. This controversial film examines…how easy it is to change election outcomes and undermine election integrity…" «Read the rest of this article»
The Clarksville premiere screening of UnCounted the Movie will be held tonight at the Unitarian Universalist Fellowship on Highway 41A South at 7 p.m. Admission is free. The film, written and directed by Nashville filmmaker David Earnhardt, addresses the issues surrounding electronic voting and calls for a paper trail documenting all electronic voting.
Activist Bernie Ellis, who is featured in this film, will facilitate a panel discussion on electronic voting following the film.
Earnhardt was also originally scheduled to attend this session and field questions, but a traffic accident on Thursday that injured family members precludes his attending this event.
The program is sponsored by the Unitarian Universalists, the Freethinkers for Peace and Civil Liberties, and Clarksville Online. Refreshments will be served and the public is welcomed to the first public showing in Clarksville of this important film.
Recently the Secretaries of State in all fifty states received subpoenas in the National Clean Election lawsuit, according to Bernie Ellis, founder of the Nashville based group, Gathering to Save our Democracy. There is still time, Ellis said, to require a paper trail for the 2008 election.
"The lawsuit aims to establish that all computer systems (or other systems) which hide the ballots from the people for even a short period of time before the count is accomplished and the results are posted – are unconstitutional…The lawsuit argues persuasively … that the use of computer and machine election systems violate each citizen's right to vote, as defined at least twice by the Supreme Court of the United States. "
– Jim Condit Jr., NetworkAmerica.
The reason for the push to have paper verified elections is evident in the recently released documentary, UNCOUNTED, by David Earnhardt. The film will make its Clarksville debut Dec. 7 at 7 p.m. the Unitarian Universalist fellowship on Highway 41A South. The event is free. «Read the rest of this article»

Film Director David Earnhardt and activist Bernie Ellis are coming to Clarksville for this city's premiere screening of Earnhardt's new film, Uncounted: The Movie on December 7 at 7 p.m. at the Unitarian Universalist Fellowship at 3053 Highway 41A South (two miles past WalMart on Madison).
Uncounted is a new documentary that explores the issues surrounding electronic voting and is a strong statement in support of a "paper trail" documenting how Americans cast their votes.
The film tackles the issue of voting machine error/failure, the need for a paper trail of votes, the political and business ties between government officials and manufacturers of these DRE (Direct Recording Electronic) voting machines, and the ease of tampering with such machines and "flipping" votes that are electronically counted.
"I cannot think of anything more important than to save the core of our democracy — the vote! — David Earnhardt (at right)

The film also reviewed extensive cases of mechanical errors, lost votes, voters turned away from polls, incomplete ballots and the installation of uncertified software into voting machine reported from across the nation.
«Read the rest of this article»