Congressman Jesse Jackson Jr. cites "UnCounted" in warnings about the fragile state of our electoral system; documentary singled out as important illustration of the problem
NASHVILLE, TN (8.6.08) – In a statement about the fragile state of our electoral system, Congressman Jesse Jackson, Jr., singled out Nashville-based filmmaker David Earnhardt's election integrity documentary, UNCOUNTED: The New Math of American Elections, saying that it offered "warnings about the fragile state of our electoral system" and "evidence of how voting machines themselves can create problems."
UnCounted made its premiere in November, 2007, to a standing room only crowd at Nashville's Belcourt Theater, where Clarksville Online was the only media present to cover the event. Clarksville Online and the Unitarian Universalist Fellowship in December, 2007, teamed up with Uncounted producers David and Patricia Earnhardt to co-sponsor an equally packed screening of this film in Clarksville.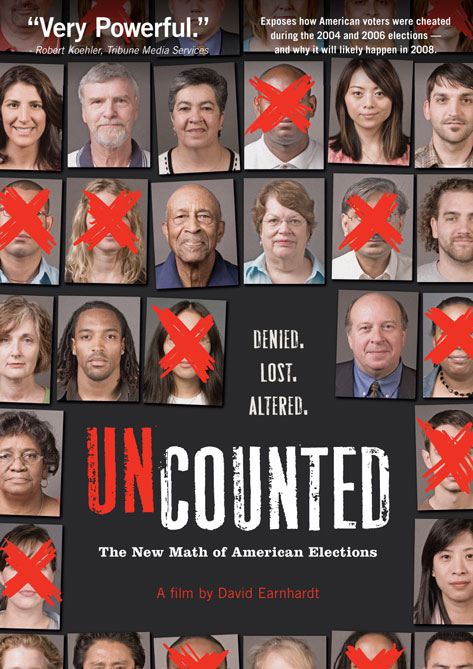 UnCounted details the issues of the past several elections, examining both the broader scope of problems with electronic voting and the focusing that same lens on a number of the most controversial problems including malfunctioning or potentially manipulated voting machines, the lack of verifiable voting (the paper 'trail'), and an insufficient number of machines at a number of polls.
In his statement, Congressman Jackson held up Michigan and Tennessee, states that will hold their primary elections this week, as examples where people go to the polls without having an explicit right to vote.
"The affirmative right to vote is not in the Constitution. Until we put it there we will continue to have presidents selected by the Supreme Court, partisan officials crafting rules in their favor, and voters disenfranchised by political games or plain old sloppiness. The Advancement Project report details a dizzying array of Election Day meltdowns, and in Uncounted there's evidence of how voting machines themselves can create problems. Without the constitutionally-protected right to vote, we don't have the power to make sure that every vote is counted in a complete, fair and efficient manner."
— Congressman Jesse Jackson Jr.
"Every Congress since 2001, I've introduced House Joint Resolution 28 (H.J. Res. 28), legislation calling for an amendment to the U.S. Constitution granting everyone the affirmative right to vote. It's time to scrap the states' rights-based system we have now, and place the right to vote alongside the constitutionally-protected right to free speech. Voting gives you the political power to protect all of your other rights. That power is the bedrock of our democracy. It should not be left to political whims, economic downturns and disenfranchising procedures," said Jackson.