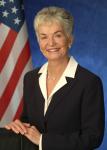 On Tuesday, and again on Wednesday, in the final stretch of the primary campaign, voters across the city of Clarksville received oversized full color postcards in the mail from State Senator Rosalind Kurita, cards that drove spikes of criticism at Tim Barnes and his law practice. Barnes is challenging Kurita for her 22nd District Senate seat on today's election.
Today a coalition of 38 area attorneys came to Barnes defense while simultaneously calling on Senator Kurita to retract her statements and stating unequivocably that her comments as written on this mailer (and recapped on television and radio ads) were "shameful, and beneath the dignity, and the honor, of a Tennessee Senator."
In a matter of four hours, the legal community rallied, creating a full page block ad denouncing the "Smear Barnes" ads and obtaining hand-signed signatures of dozens of local "legal eagles" as part of a statement of support for Tim Barnes. (Complete ad text/signatures at end of story). The full page ad is slated to run in The Leaf Chronicle today.
Atty. Mark Olson, one of the signatories on the response ad, submitted the following statement to Clarksville Online late Wednesday evening (8.6.08):
"Kurita's ads attack the very foundation of our legal system. They are intended to question the integrity of the system. Clarksville, Tennessee is blessed with courageous Lawyers and Judges. Each person has their own thoughts, and I do not presume to speak for my fellow Lawyers, however, I believe the Lawyers who signed this ad were shocked by the attacks on the legal system from someone who is responsible for writing laws. I have practiced with and against everyone who signed. I have practiced before every Judge in the County. The Lawyers represent their clients honestly, without regard to who they "are", and the Judges judge fairly on the facts alone. Kurita's ads suggest something different and that is very, very wrong.

We got this advertisement together in about four hours. Given more time, more Lawyers would have participated.

Tennessee Senate District 22 candidate Tim Barnes

The distortions and half truths in Kurita's ads are almost too numerous to count. But that is not as great a concern as her lack of understanding of the legal process. As a lawmaker she should at least have a basic understanding of the legal system. She does not.

Kurita's ads claim Tim Barnes works to release criminals. Only a judge or jury can find the accused not guilty and "release" them. And then, only after a fair trial. People in Montgomery County receive fair trials. If they are guilty, they are punished. Is she against the Jury system? If she is against the Jury, she does not trust the people of Montgomery County.

Kurita's comments demonstrate contempt for the legal system and the people of Montgomery County. Each and every year that she has served as a Senator, Kurita has voted on a Tennessee state budget which includes money to be paid to lawyers for the defense of the indigent in Tennessee. Does this mean that she supports "criminals"? Could it be that her statements made about Tim Barnes are made because a lawyer is running against her? This makes one question her true motives, doesn't it? Is win at any cost her game?

Tim Barnes' main legal practice is adoption. He brings together children who need a family with parents who desperately desire a child. You wouldn't know that from her ad, would you? Tim Barnes has done more to create families with one adoption than this woman has done in all her time in office.

–Mark Olson
The ads in question, was likely designed by the Nashville firm, Fletcher and Rowley, whose company logo is "It's all about winning!" The postcard dealt not with the heated issues of the campaign or the issues — everything from the economy to health care to jobs — that challenge residents across the district and the state. Instead, it targeted the kind of legal services offered through Barnes' law practice. Although Barnes' legal practice is rooted in family and adoption law, he, like many other attorneys in every city and county in America, has defended people facing charges that may include driving under the influence, spousal abuse/domestic violence, and other crimes. But that is far from the whole story.
This eleventh hour ads came across as a rant against both the lawyer and his clients; by denegrating the former,  defendants are also deemed not worthy of being afforded a defense as guaranteed under the U.S. Constitution. Without the dedicated work by prosecution attorneys, defense attorneys, and judges, there is no justice under the law. Not every defendant is guilty, or found guilty under the law. No individual is less worthy of defense than another.
Across the board, every person this editor spoke with, who viewed these ads, were appalled by the contents.
Clarksville Online has posted two items, an editorial and a political commentary, addressing these issues and the District 22 campaign (As the August 7th primary nears, campaign strategy turns "ugly" and Tennessee Senate District 22: In case of emergency, unleash Fletch ).
The following is copy of the controversial oversized postcard ad:
The following is a copy of the response to this postcard ad by area attorneys, followed by a list of those who endorsed the ad, and thus the integrity of Mr. Barnes: 
Mark R. Olson
Jane Sharpe Olson
Ted R. Crozier Jr.
Bill Aldred
Pete Olson
Reid Poland III
J. M. Miller
Hugh Poland
Thomas R. Meeks
F. Evans Harvill
Donrua Barnes-Hulsey
Larry B. Watson
Sissy Rankin
James K. Cartwright
Richard Meeks
Sharon T. Massey
Collier Goodlett
William C. Lebo Jr.
Russell Lance Miller
Chris Pittman
Greg Patton
Ray Runyon
Carrie W. Gasaway
Stanley M. Ross
Cleo G. Hogan
Roger Maness
J. Runyon
Jeff Grimes
Michael K. Williamson
Bradley M. Carter
Tavis Meeks
Crystal L. Myers
Steven Girsky
R. Mitchell Ross
Michael W. Dale
Joel D. Ragland
Steven T. Atkins
Carmack C. Shell