Despite wind and rain, Nashville's 'Nation for Change' participates in simultaneous nationwide event.
Members of the Clarksville Team Obama attended the Nashville Nation For Change Obama rally Saturday. On the plaza behind the state capitol, members of Nation for Change held a rally in support of Senator Barack Obama's presidential campaign. Regional and local speakers addressed the supporters. Several performers were also on hand to entertain.
Rev. Jerry Jerkins of Clarksville (at left) next addressed the rally. He enthused the crowd with his message that "Senator Obama reflects that new morning has arisen! There's a fire growing in the hearts of America!"
Randall Dunn, state coordinator of Nation For Change, kicked off the rally with a welcome message. He reminded everyone that this event was part of a simultaneous nationwide rally and thanked everyone for their continued support of the Obama campaign and the staging of this event.
Arlene McDonald (left) of Clarksville told the crowd why she was supporting Senator Obama. "Senator Obama not only listened to the people, he heard them and made us to know our concerns are his own. He hears us whether we be Black,White, Hispanic, Native American, old, young, male, or female. He hears the people."
Robert Reed a Belmont University student, served as MC, encouraging the crowd and introduced each speaker and entertainer. Despite the threatening weather, many people turned out for the rally. There were tables for voter registration volunteers and phone-canvassing later in the afternoon. T-Shirts were available and food vendors offered refreshments.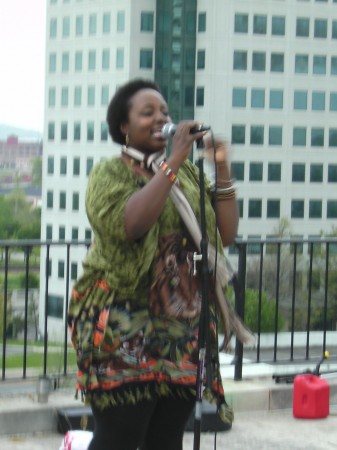 The crowd was entertained by Amealia Akputu, a singer/performer, (below left)She sang a song that was performed at Nelson Mandela's inauguration. She explained it was a song of inspiration and an expression of the hope for a better tomorrow. She expressed her belief that Senator Obama represents that better tomorrow for the United States.
Student James Mooney spoke of his reasons for his support of Senator Obama: "His authentic integrity, his intelligence and his irritation- an irritation to correct the ills afflicting our nation and all her people."
The weather turned inclement, forcing an early end to the rally. Event organizer, Alicia Bell, thanked everyone for turning out and all those who, like her, volunteered their time and talents to stage the rally.
Clarksville Team Obama holds weekly meetings every Thursday evening at New York Pizza Depot, 3297 Fort Campbell Blvd. The meetings start at 7 PM. You can find information at <www.myspace.com/clarksvilleforobama>