New location yields soft comfort, welcoming ambiance and truly scrumptious home cooking!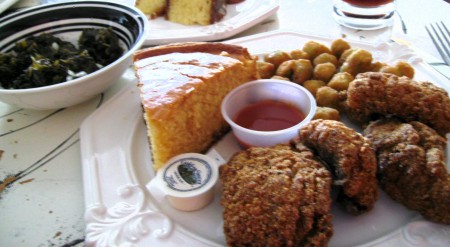 Johnnie Mae's Soul Food has settled in to it's new location at 1630 Fort Campbell Blvd. With recipes learned at the hands of her grandmother in Tuskegee, Alabama, Odessa Fouse has created a welcoming cozy atmosphere with a warm, eclectic decor that feels, at once, at home and softly elegant. A hearty welcome greets each visitor.
Those who are familiar with the previous location on Fort Campbell Blvd near the Ringgold Road Post Office will be delighted to know that the menu remains unchanged and the quality of the food is also staunchly intact. These family recipes are prepared with care and reverence to Johnnie Mae's exacting standards. No pork seasoning or lard is used. Vegetable oil, herbs and spices and Johnnie Mae's instilled sense of 'something special' grace each offering with mouthwatering delight.
This writer had the Whiting Fillets dinner with turnip greens, fried okra, cornbread and iced tea. My lunch companion, Ms Seymour, ordered the Barbecued Chicken dinner with Cajun Rice. Fried Cabbage, Corn Bread and Iced Tea. I treated us to the Caramel Cake for dessert- worth every morsel! Both entrees were succulent and a joy to eat.
The barbecued chicken came with the sauce on the side, a nice touch. Ms Seymour said the chicken itself was "fall off the bone" tender and well seasoned. The sauce was an added taste stimulation! Her Cajun Rice was fresh and zesty and the cabbage was 'just right' crunchy. My turnip greens had a wonderful flavor I'm still trying to nail. No help from the kitchen on the exact blend of seasoning. The okra was crisp and yet tender.
The whiting fillets were a soft golden cornmeal coating that gave way to the wonderfully natural sweet whiting flavor. A crispy coating to tender flesh, hm-m-m-m! We both had to restrain ourselves on the cornbread because this was no dry, bland cornbread. A deep, rich yellow, moist and melt-in-your-mouth experience with every bite. Ms Seymour was using her butter lavishly and commandeered mine as well. Thru out our meal, the iced tea glasses were continuously refilled.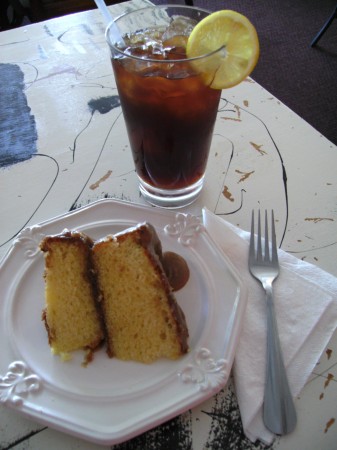 The tea is as full-flavored as every other item on the menu- rich and robust. Requests for lemon or more ice were quickly accommodated. The Caramel Cake proved to be as delicious as the rest of our meal. On first bite, we knew this was no store-brought recipe mix. This is a 'grandmother's handed-down recipe that has been preserved and respected. Trust me on this one, your taste buds will rejoice with glee!
Johnnie Mae's regulars will know that one of her specialties is her on-site barbecued ribs. As we were preparing to leave, Ms Fouse brought in a tray, right off the grill. Instantly the whole room filled with that sweet smoked meat aroma and I was tempted to sit back down and give them a go. Thick, meaty, they looked so tender and moist, I knew I would have to return to give them a proper evaluation. And this was without her special sauce. Mind you, we're talking a full rack here! I also plan to sample the Jerk Chicken, Oxtail, Pulled Beef Brisket, Hot Wings and Spinach Quiche. The Banana Pudding is a proven rave fave! A certain friend I know drives all the way from Bowling Green, KY just for the Chocolate Cake! That should tell you something.
Main entrees are also available as sandwiches. Loaded Baked Jumbo Potatoes, Pulled Beef and Pork- by the pound are also available. Come see Clarksville's newest dining delight and Montgomery County's best "Home Spot!" Johnnie Mae's also offers catering service. Ph: 931-378-9342 or 378-4334. "She won't bite. I promise!"