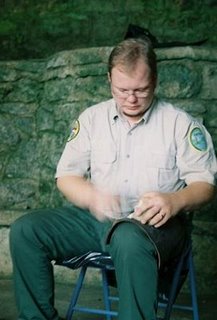 If you missed it, last Saturday the 16th was a perfect day for an outing. There was a slight breeze that seemed to nod at the upcoming Autumn season. I don't know about you, but days like that make me want to get out and see what's going on in my area and the surrounding towns.
So I found myself at Dunbar Cave State park where they were hosting Early Native American Skills Day. Now when I hear the words Early Native American I tend to think of Pow-Wows, Cherokee Indians, Trail of Tears,and bearskins. This event however introduced me to the world of the original settlers the earliest "Americans" the Southeastern Prehistoric Native Americans. That's right, we're talking old. Very old. Way back. 6,000 BC
Some of the demonstrations by the staff of Dunbar Cave that I participated in were , demonstrated to me by Ranger Neblett. Atlatl throwing is where you take your spear, which in my case was over half of my height, place it inside of the Atlatl, which resembles a long pipe of sorts, then send it hurling across a distance toward the 'prey' that you would be having for dinner that night. Unfortunately all I killed was by chance an unlucky cricket passing by in the grass, for my spear did not 'hurl' very far.
Next I tried my hand, or rather my lungs at Blow Darts, set up in a booth on the Dance Floor preceding the cave. It had the feel of a local carnival, but with a hunting lodge flair. Before me was a display of colorful balloons and pictures of small prey that would have been killed using such weaponry. The blowguns appeared to be made from Bamboo and the staff were ever so thoughtful to provide sanitary wipes to clean off the previous 'warriors' germs before you placed your mouth on the blow gun. This event was a lot of fun for everyone in the family.
Speaking of Family oriented, the big kid friendly activity of the day was Ranger Wallace's demonstration of Basket Weaving. Some 25-30 captivated kids gathered in the cool shade of the cave bluff very eager to learn this new skill. I saw many great little creations that kids were able to make right there that afternoon.
While the children's little fingers were busy weaving grape vines the parents had lots of opportunities to take in informative talks and demonstrations on Prehistoric Indians.
Also on the day's agenda were Cave/Archeology tours, Interpretive talks with artifacts, Flint Knapping demonstrations, and a very professional exhibit in the museum.
So now you're bummed that you missed the challenge of Atlatl throwing and the fun of blow darts?
Cheer up! The museum located inside of the Visitors Center will continue to display an exhibit on Prehistoric Native Americans as well as the Prehistoric Cave Art that has been found inside of the cave itself! Its supposed to rain the next few days anyways, so get out, get in the cave and get educated!
For more information, click on this Dunbar Cave website.