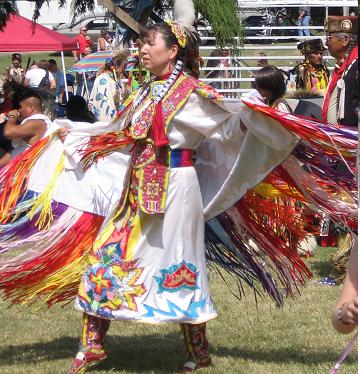 On September 6th and 7th the annual Trail of Tears Pow Wow took place in Hopkinsville, Kentucky.  This Pow Wow is on the same weekend as the Clarksville Riverfest (that's how I remember when it is).  I went there on Sunday afternoon (9.7.08) and saw several types of competition dancing for different ages and styles.  The hot day got hotter watching the young men give it their all in their competition run off.
For the run-off they did the chicken dance.  One might think that would look funny, like the white man's version, but it was wildly fantastic leaving the audience roaring with applause.  One could see from the dancers' movements that a chicken, like other animals who live on this planet with us, has it's own "dance" that we can either laugh at and feel superior to, or study and learn from with respect to that animal.  It's a choice that my culture usually doesn't consider.
While the drummers, singers and dancers took a break, I bought an Indian fry bread, taco style, and while eating listened to the storyteller speak and play his flute.  Then I roamed around the booths surrounding the dance arena.  I moved through the crowds of people, checking out dream catchers, jewelry, leather goods, pottery, finger puppets, flutes, CD's, tee shirts, sage, books, toys and tea.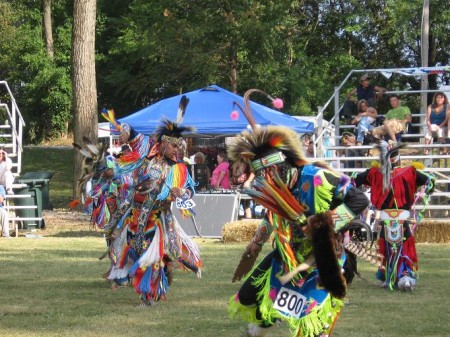 When the drums started up again, we were invited to participate in a birthday dance and an anniversary dance.  The commentator explained dances and kept us chuckling with his sense of humor.
I stayed until almost closing.  I left with a tee shirt, sage, tea, jewelry and a calm feeling.  I got my fix of drum beating and that good ole true American attitude.  I'm good-to-go for another year.  It would be all right if I went to another Pow Wow sooner than in a year.  It would be great in fact.  Hearing the drums and watching the people who know how to connect to the Earth always reminds me of something I think I should already know:  How to really walk on this place we live on; how to hear the voice of the creatures around me; how to be still in my heart and know that I am, and every creature is, an important and vital part of the Great Creation.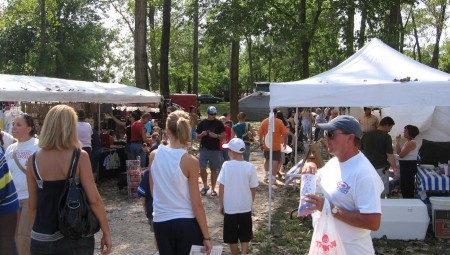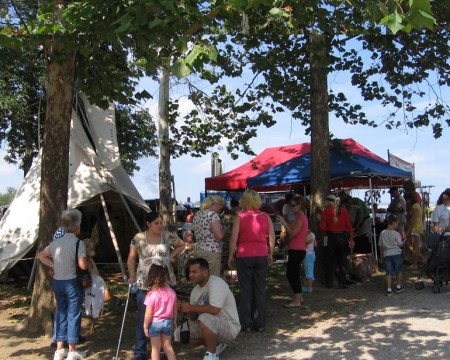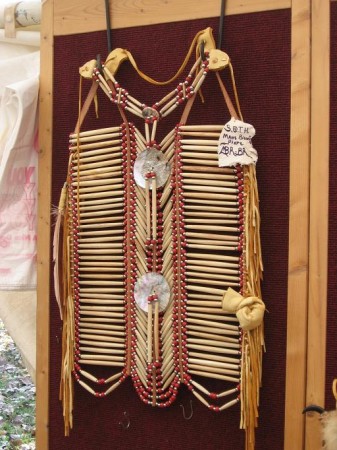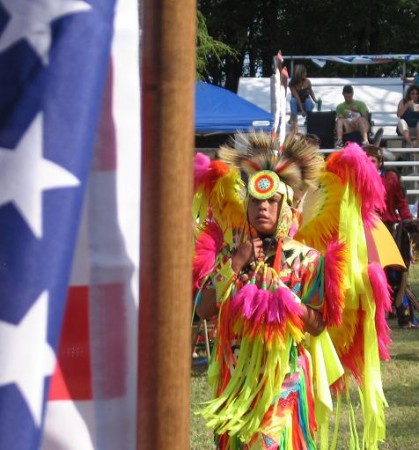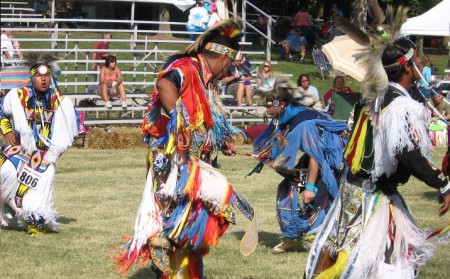 Photos by Debbie Boen