Loaves and Fishes, which serves free meals to 150-200 people a day, six days a week, held its annual fundraiser Saturday evening, offering the community a Louisiana Cajun meal that included Cajun rice, gumbo, beans, jambalaya  and breads, with pecan prawlines for dessert. Admission was $10 per person for the event, which ran from 4-7 p.m.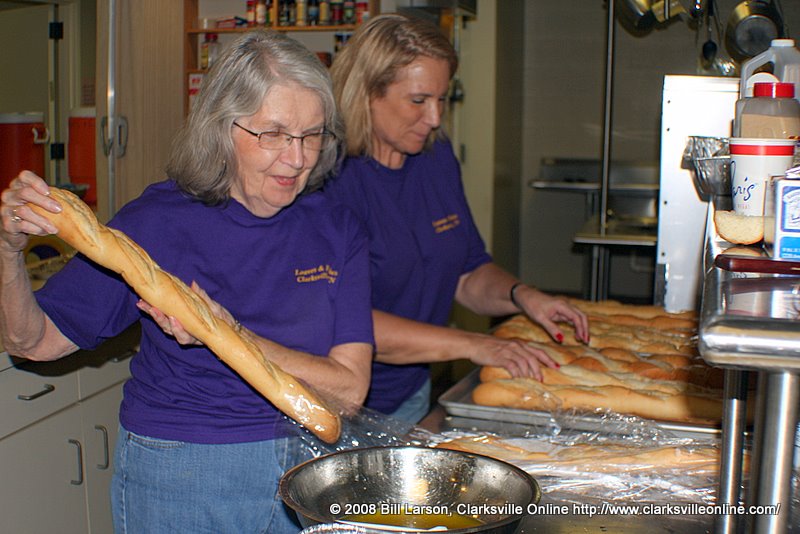 Volunteers garbed in bright purple Loaves and Fishes T-Shirts, decorated the hall on Third Street, and were ready to serve the food that had been "in preparation" for hours.
Susan Chapman, director of the non-profit Loaves and Fishes, said the event "gets better and better each year." Raising funds is critical to the organization's success, since "we have had over 200 people to feed on some days," Chapman added.  The group exists on a mix of grants, public donations and support from local churches and other organizations.
Smart shopping, good networking, and community donations of money and food keep the shelves full, and the day's menu is often decided at least in part by food donations received.
Chapman credited Janice and David Traxler for spearheading the program and planning Saturday's Louisiana Cajun event.
From Monday through Saturday, teams of volunteers donate the time from 8-10:30 a.m. preparing the day's meal, and most shift to a "serving" position, loading up plates, pouring out beverages, from 10:30 a.m. to noon. As an occasional volunteer, I once served meals on day when that Louisiana jambalaya was on the menu, and that was perhaps the most popular meal I've ever seen served there.As for Saturday's meal, I can attest to the amazing aromatic taste of that Cajun rice.
As gas and food prices rise, and budgets seem to shrink proportionately, the lines at this local soup kitchen grow. Saturday's Cajun night will add a bit more to the budget, which in turn feeds more of Clarksville's people in need. For  more information on Loaves and Fishes, call 931-645-9020.