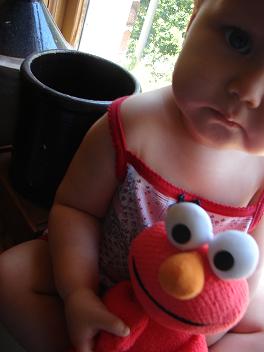 Earlier this week while at Kroger I noticed some baby lotion in the clearance bend from Earth's Best Organics. Since this was already a brand I use with Elle-girl's foods, I thought I would try it. I've loved it! It's true lavender, and smells yummy, and it goes on so smooth, unlike other thick lotions. Elle-girl, who has always hated getting rubbed down with lotion, also seemed to love it. She lays very still while I apply the lotion before bed, then she carries the bottle around the house during the day. I started to notice as she carried it around she would sing the Elmo song that she learns on Sesame St.
If you haven't figured it out yet, we love Sesame Street and Elle-girl loves Elmo! National Public Television offers many great programs for Adults as well as children 24hrs a day. NPR boasts of being viewer sponsored and therefore they do not buy into selling lots of products through commercials on their station. As a parent, I appreciate that.
Elle-girl only watches two programs a day, one being Yo Gabba Gabba, which we record with DVR and watch whenever we want, and the other, being Sesame Street in the mornings.
Around 8:56 a.m. I turn on the TV and turn it on Channel 8. Though there are no "official" commercials they always play three messages from their 'sponsors', New Balance shoes, McDonald's, and Earth's Best Organics. I noticed yesterday morning as the Earth's Best Organics commercial came on Elle-girl started singing the Elmo song. A thought occurred to me, and I ran to her room picked up the lotion bottle and a small label on the front of the bottle is the same label they use in their commercials.
Elle-girl has been bought.
She trusts this brand because it comes on right before Sesame Street and Elmo come on. Just imagine how much more she would be exposed to should we let her watch more TV than we do. How much more would she want or recognize at the grocery store?
Very smart, Earth's Best Organics, very smart.